US Open and Olympic champion Andy Murray has signed on as the first client of a new partnership between his management company and Indian doubles star Mahesh Bhupathi's GloboSport.
-Veteran Paes dreams of playing 2016 Olympics
The move is aimed at helping the tennis star develop his off-court interests in Asia and the Middle East.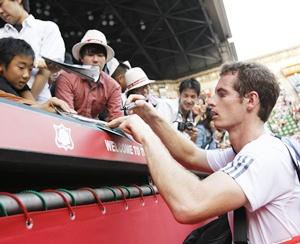 Murray's commercial activities have been managed by Simon Fuller's XIX Entertainment since 2007,
But there had been speculation the 25-year-old Scot may switch to a rival to help him further his business interests, News,com.au reported.
Bhupathi launched GloboSport, a media and entertainment company, in 2002 and this week was revealed as the brainchild behind plans for an International Tennis Premier League, based on cricket's Indian Premier League and played during tennis' short off-season in November and December.
According to the repot, the leading players have already been approached and Murray's involvement with Bhupathi could lead him to become a key figure if the league gets the green light.
Photograph: Yuriko Nakao/Reuters