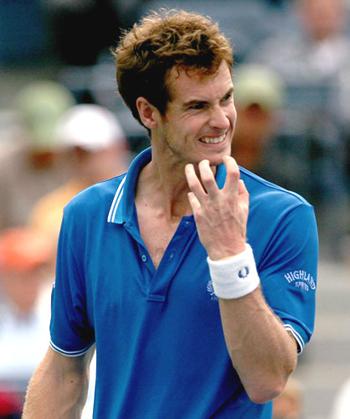 Andy Murray feels he let playing partner Laura Robson down by not delivering victory for Britain over Spain in the Hopman Cup final on Saturday.
Fifteen-year-old Robson had given Britain a surprise lead in the mixed team event when she stunned world number 26 Maria Jose Martinez Sanchez 6-1, 7-6 in the opening singles rubber, paving the way for Murray to seal victory in his match.
However, the world number four, who had been in dominant form all week, romped through the first set against Tommy Robredo but lost his way thereafter and allowed the Spaniard to fight back for a 1-6, 6-4, 6-3 win.
The British pair then squandered three set points in the opening set of the deciding mixed doubles before the Spaniards eked out a 7-6, 7-5 victory to take the competition for a third time.
"I'd like to thank my partner for playing with me," Murray said. "I kind of let her down a bit, so I feel bad about that," he added.
Robson, ranked 403, was rewarded for her performances this week with a wild card into the qualifying event at the Australian Open, which begins on January 18.
Martinez Sanchez had not lost more than four games in a set all week but was stunned in the first set as Robson attacked at every opportunity, breaking twice to win it.
The Spaniard led 5-3 in the second set and had a set point at 5-4 but Robson fought back superbly and after missing three match points in the tiebreak, having led 6-2, she snatched it 8-6 to clinch the best victory of her young career.
"I was pretty nervous at the end but I tried to keep going for my shots," Robson said.
"I'm really happy. I thought I played really well, especially in the first set when I completely dominated. From 6-3 she started going for her shots but then at 6-6 I was like, OK, just go for your shots and it worked," she added.
Robson has been the crowd favourite in Perth all week thanks to her candid and entertaining interviews.
And when asked what she thought the people watching back home would think of her efforts, she was typically quick with an answer. "I think everyone in London is asleep right now," she said.