The IPL-style football league has gone ahead full guns blazing to show their presence. The idea is finally coming together.
Mumbai's D Y Patil Stadium is scheduled to host the opening match of the inaugural IMG-Reliance league that commences from January 18 next year.
"The IMG-Reliance tournament starts from January 18 and would run till March 30, and the first match will be played in Mumbai. Most likely it will be in D Y Patil Stadium and a contract will be signed with them in the next few days," a source said on Monday.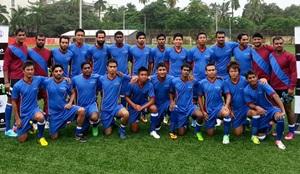 Pune, Mumbai, Chennai, Kolkata, Kochi, Goa, Delhi and Bangalore will be the eight cities where the franchises would be based, while Guwahati and Hyderabad have been kept in the reserves.
The bidding for the eight franchises to take part in the tournament will be held in September, while the players' auction -- including the foreign players -- would be held in October.
"All the franchises would be registered as clubs and the corporates who buy the team will be owners for 10 years," the source said.
The tournament will feature 22 players in each team, with 10 foreign players, including a marquee player. Each franchise will also include eight domestic players and four local players from the catchment area in the under-23 category.
The marquee player pool would be about 12-15 players, the source informed.
IMG-Reliance, which is the marketing partner of the All India Football Federation, has already signed 39 domestic players and 20 players of AIFF developmental side Pailan Arrows will also be part of the league.
Image: IMG-Reliance players at the Cooperage
Photograph: Courtesy IMG Reliance