Lowering the course record is not on defending men's champion Laban Moiben mind as he goes into the 10th Standard Chartered Mumbai Marathon on Sunday.
He is focusing on only retaining the crown in the US $350,000 event.
"I will be happy to win. I am not thinking about the course record. If it (course record) comes along, fine. I am not training for it. The conditions can be tough," said the 29-year-old Kenyan, who edged past Ethiopia's Raji Assefa in a photo-finish in last year's race.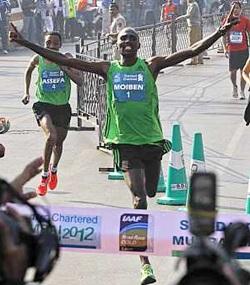 The top two finishers clocked an identical 2 hours, 10 minutes and 48 seconds, but the Assefa will be missing from Sunday's line-up.
The course record of 2:09:54 second was set by Girma Assefa of Ethiopia two years ago.
Sunday's field has the winner of the inaugural race in 2004, South Africa's Hendrick Ramaala, in the fray.
"It was a tough race last year, but the conditions, especially the humidity, were not bad. I don't know (about the conditions) this time," said Moiben, who does not have a track pedigree before his switch over to the marathon.
"I tried 800m (track running), but did not make it and went to run marathons," said Moiben, who has won three marathon races in his career.
The 40-year-old Ramalaa has returned to the Mumbai event after a nine-year gap and remembers Bollywood celebrities and cricket icon Sachin Tendulkar among those present when he won the title in 2004.
"There were a lot of celebrities from Bollywood, (American Olympic champion) Michael Johnson (brand ambassador) and Sachin Tendulkar witnessing that race. It was kind of my 'lucky' stint in the Athens Olympic year. I failed in the Olympics but then won the New York marathon in the same year," he recalled.
This year's event has attracted 10 men runners who have clocked below 2 hours and 10 minutes in their career and five women runners who have run marathons under 2:30.