Kolkata's Rafick Ali Mollah shot a sizzling seven under 63 in round two of the Crompton Greaves Open that catapulted him into the lead at the Bombay Presidency Golf Club course, in Mumbai, on Thursday.
Rafick's second round effort moved his score to 10 under 130. Karanjit Singh Sandhu of Delhi, who fired a 69 on Thursday, is two shots off the pace in second place.
The cut was declared at four over 144. Fifty-two professionals made the cut. Rafick (67-63) followed up his first round 67 with a fabulous bogey-free 63 on day two to snatch the lead. Rafick had a dream start in round two as he birdied the first, second, fourth, fifth and seventh to be five under through seven holes. He chipped-in from the edge on the par-three second and hit a perfect sand-wedge shot on the fifth to create another birdie opportunity from five feet.
The 41-year-old then had a relatively quieter back nine with two birdies on the 10th and 18th. His near-flawless nine-iron tee shot on the par-three 10th stopped just a few inches short of the hole. Rafick then came up with another superb sand-wedge shot that led to an easy birdie putt on the closing 18th.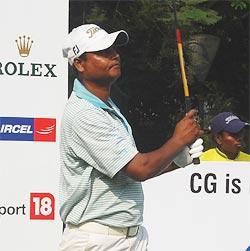 "My putting made all the difference today. I had struggled with the putter in round one. That was not the case today. I sank a decent 12 footer for birdie on the seventh. I was also delighted with my recovery on the 18th. My drive had found the rough on the 18th but despite that I managed to salvage a birdie on that hole," said Rafick.
He added, "It's important to take your chances on the front nine as the fairways are straighter and that presents more birdie opportunities. My strategy for the next two days would be to look for maximum birdies on the front nine.
"I was playing well in patches over the last few months and therefore could not produce any good scores. I'm glad that I've been able to put together a solid round after a long time."
Karanjit Singh Sandhu (63-69), the first round leader, shot a 69 to end the day in second place at eight under 132. He had an action-packed first nine (10th to 18th) which featured four birdies and three bogeys. Karanjit's second nine included a bogey on the seventh and a birdie on the ninth.
Karanjit said, "My putting was not as good as round one. I made a good birdie on the closing ninth, which is not an easy hole. The pins were tougher today and thus birdies were not easy to come by.
"I don't have any score in mind for round three but will just try to hit maximum fairways and improve on my putting."
Mandeo Singh Pathania of Greater Noida brought in a card of 66 to be placed third at seven under 133.
Lucknow's Vijay Kumar and Chandigarh's Harendra Gupta are tied for fourth at six under 134. While Vijay carded a 65, Harendra returned a 67.
Top 10 scores: Rafick Ali Mollah 130 (67, 63); Karanjit Singh Sandhu 132 (63, 69); Mandeo Singh Pathania 133 (67, 66); Vijay Kumar 134 (69, 65); Harendra Gupta 134 (67, 67); Sujjan Singh 135 (66, 69); Ashok Kumar 136 (66, 70); Vinod Kumar 136 (67, 69); C Muniyappa 137 (71, 66); Mukesh Kumar 137 (70, 67).