Twice MotoGP world champion Casey Stoner said on Thursday he had lost his love for the sport and would retire at the end of the 2012 season.
The 26-year-old Australian won the 2007 crown with Ducati and the 2011 title with Honda, and currently leads the world standings by one point ahead of Spaniard Jorge Lorenzo heading into the fourth race of the season this weekend.
"After a long time thinking, a lot of time talking with my family and my wife, this has been coming for a couple of years now," Stoner told a news conference in Le Mans ahead of the French Grand Prix.
"I will be finishing my caree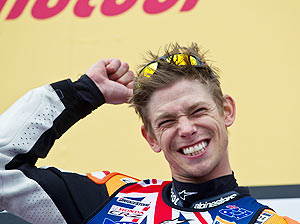 r at the end of this season in MotoGP, and go forward in different things in my life.
"After so many years of doing this sport which I love, and which myself and my family made so many sacrifices for, after so many years of trying to get to where we have gotten to at this point, this sport has changed a lot and it has changed to the point where I am not enjoying it.
"I don't have the passion for it and so at this time it's better if I retire now."
Stoner moved into the premier category in 2006, claiming his first pole position in only his second start in Qatar, and the following year won his first MotoGP race at the same venue before going on to take the championship that year.
He was runner-up in 2008 but missed a number of races the following season with a mystery illness and his fortunes only changed when he switched to Honda for the 2011 campaign.
Stoner was on pole position 12 times on his way to a second world title.
"There are a lot of things that have disappointed me, and also a lot of things I have loved about this sport... but unfortunately the balance has gone in the wrong direction," he added.
"It would be nice if I could say I would stay one more year, but then where does it stop? So we decided to finish everything as we are now."
Photograph: Mirco Lazzari /Getty Images