World champion Casey Stoner won the Qatar MotoGP Grand Prix in Doha on Sunday, the first race of the season and the first ever to be held at night under floodlights.
The Australian, riding a Ducati, crossed the line first at the Losail International Circuit ahead of Spanish polesitter and debutant Jorge Lorenzo on a Yamaha, with Honda's Dani Pedrosa in third.
Stoner, who was fourth on the grid, took the lead on the straight on lap eight and did not look back as he raced to victory in 42 minutes 36.587 seconds.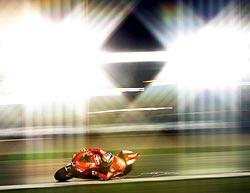 Lorenzo finished over five seconds in arrears with Pedrosa almost more than five seconds further back in third.
"This is an amazing win for me," Stoner told reporters. "I am very happy to start the new season in this fashion. We didn't have a great time in the pre-season. But I enjoyed tonight's race. It was crazy in the first few laps."
The 22-lap race (118.36km) turned out to be a four-man battle until half way through, with Stoner, Lorenzo, Pedrosa and Italy's seven-time world champion Valentino Rossi fighting for supremacy. But it became a two-man race as Stoner took a handy lead with Lorenzo his closest challenger.
Pedrosa, who started from eighth place on the grid, sneaked through the front runners and took a surprising early lead but Rossi narrowed the gap steadily and forged ahead in the fifth lap with Lorenzo and Stoner chasing the front duo.
But by the eight lap the equations changed drastically as Stoner moved ahead.
Both Rossi and Lorenzo challenged him for some time, but as the race progressed it became clear that the battle for the win was between Stoner and Lorenzo.
MotoGP rookie Lorenzo said: "Congratulations to Stoner. We didn't expect such results - pole position and then the podium finish."
Pedrosa said: "It is a bit of a surprise result for us. We didn't do well in the testing, but we have worked extremely hard before the first race. I would like to thank my team. It is a great result for Honda."
Earlier Mattia Pasini of Italy and Hector Barbara of Spain made it a 1-2 for Aprilia in the 250cc with KTM's Mika Kallio of Finland finishing third.
The 125cc race went to Spaniard Sergio Gadea of Aprilia. Derbi's Joan Olive of Spain was second and Aprilia's Stefan Bradl of Germany finished third.