'Being back in the Champions League is going back to the natural habitat. Manchester United (have been there) season after season'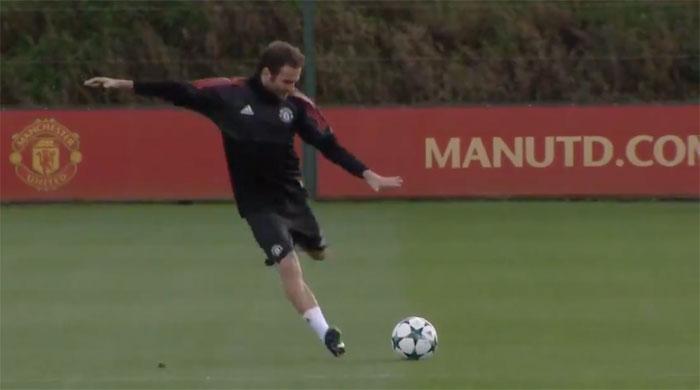 IMAGE: Manchester United's Juan Mata gets into the groove at a training session in Carrington on Monday. Photograph: Manchester United/Twitter
Manchester United are back in their "natural habitat" in the Champions League and are up for the challenge of playing against the best teams in Europe, manager Jose Mourinho said.
The squad took to the training field on Monday as they prepared for the test against Basel at Old Trafford.
United had failed to qualify for the Champions League for Mourinho's debut campaign but their Europa League triumph last season secured a return to Europe's elite competition.
The Old Trafford outfit begin their campaign on Tuesday, hosting Swiss side FC Basel in the opening group stage match.
"Being back in the Champions League is going back to the natural habitat. Manchester United (have been there) season after season," Mourinho said.
"Motivation is very high."
"We have to try to go to the last 16 and enjoy that special knock-out phase with the best teams in Europe."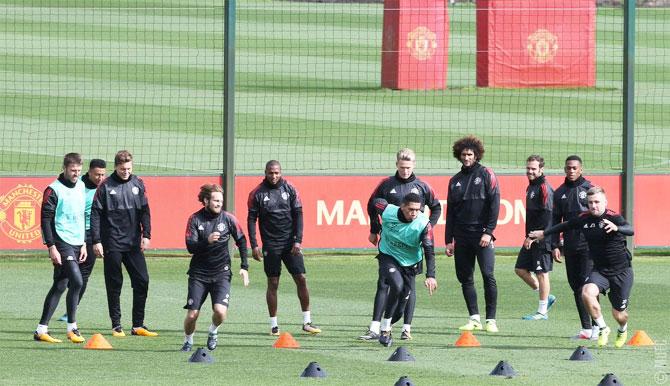 IMAGE: Manchester United players go through drills at a training session at Carrington on Monday. Photograph: Manchester United/Twitter
The Portuguese boss believes his team are in good form after starting their league campaign with three wins and a draw.
Mourinho says he loves the packed Christmas schedule that English teams have and believes they cannot use the busy schedule as an excuse for poor Champions League performances.
"We have no winter break, and in other countries there is a winter break, but that's cultural - it means a lot, and I have to admit I love it," he added.
"But no complaining this is what we have, we have squads and if we think they're tired we play with other players."
Defenders Eric Bailly and Phil Jones are serving suspensions and will be replaced by Chris Smalling and Victor Lindelof at the centre of defence for Tuesday's game, while midfielder Marouane Fellaini is a doubt as he recovers from a calf injury.