Former 100 metres world record holder Tim Montgomery faces a life ban on Tuesday when the Court of Arbitration for Sport (CAS) releases its decision on alleged doping offences by the US sprinter.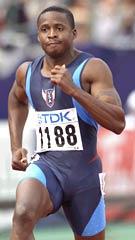 The US Anti-Doping Agency (USADA) has accused Montgomery of serious doping violations after a federal investigation into the BALCO laboratory in California. He has denied ever taking drugs.

BALCO head Victor Conte, who was sentenced to four months in prison in October after pleading guilty to steroid distribution, said last year he had supplied Montgomery and his partner, the triple Olympic champion Marion Jones, with the designer steroid THG (tetrahydrogestrinone), EPO (erythropoietin) and insulin.

In a separate television interview, Conte said he had witnessed Jones using steroids. Jones, who has not been charged with any doping offence, has denied the allegations.

Under new USADA rules Montgomery can be banned for a non-analytical positive, evidence of drug taking other than positive test.

Michelle Collins, the 2003 indoor 200 metres champion, accepted a four-year ban this year after USADA said it had established beyond reasonable doubt that she had taken THG and EPO.

If Montgomery is banned by the independent Lausanne-based body, he will become the highest profile athlete to be suspended since Ben Johnson tested positive after winning the 1988 Seoul Olympic 100 metres final in world record time.

The Canadian was stripped of the gold medal and his time of 9.79 seconds was not recognised after a positive test for the anabolic steroid stanozolol.

SCANDAL ERUPTS
Although several world 100 records have been broken since 1988, nobody had run faster than Johnson until Montgomery clocked 9.78 seconds at the 2002 Paris grand prix final.
The THG scandal erupted when coach Trevor Graham anonymously sent a syringe containing a new steroid to USADA.
| | |
| --- | --- |
| | Also Read |
| | |
Scientists determined the new drug was THG, a chemically related compound of the banned drug gestrinone designed to evade the testers.

As a result the BALCO laboratory was raided by agents from the US Internal Revenue Service criminal investigations unit and the San Mateo County Narcotics Task Force. Baseball's Barry Bonds, double world sprint champion Kelli White, Montgomery and Jones were listed among the laboratory's clients.

After the urine samples from the US championships had been retested, US shot put champion Kevin Toth, women's hammer champion Melissa Price, men's hammer thrower John McEwen and middle-distance runner Regina Jacobs returned positive samples for THG.

Britain's European 100 metres champion Dwain Chambers, second to Montgomery in Paris when he equalled compatriot Linford Christie's European record of 9.87 seconds, also tested positive for THG in 2003. At the weekend Chambers admitted he had been taking the drug in 2002.

White accepted a two-year ban after admitting taking a cocktail of drugs including THG and EPO.
- UNI