Wimbledon's seeding committee should use its power to promote 11-times Grand Slam champion Rafael Nadal into the top four, according to three-times former champion John McEnroe.
Speaking the day before the seeds are announced for the grasscourt slam which starts on Monday, the American said it would be "totally wrong" if Nadal had to play World No 1 Novak Djokovic, defending champion Roger Federer or home favourite Andy Murray in the quarter-finals.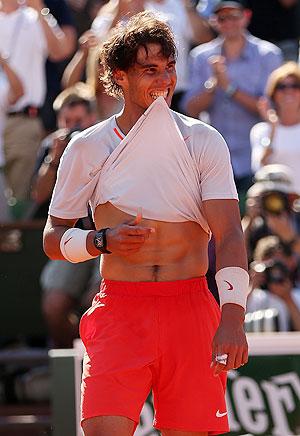 On current rankings, used to determine seeds at most tournaments, Nadal is fifth behind David Ferrer whom he beat to win an eighth French Open title this month.
Should Nadal be seeded fifth at the All England Club, where he has twice triumphed, the Spaniard could be placed in the same quarter as one of the other members of the big four.
"In my opinion there is no doubt he should be in the top four," American McEnroe said in a conference call arranged by broadcaster ESPN on Tuesday.
"I don't think anyone would be put out, whatsoever. Wimbledon is the only one of the four majors that can change the seedings.
"I don't know how they do it exactly, apparently there's some kind of formula, but clearly he should be one of the top four seeds in my book.
"If he ran into Ferrer in the quarter-finals it would be the same old, same old because Ferrer is used to running into one of the big four in the last eight.
"But if Nadal played Djokovic in the quarters, or possibly Murray or Federer, that would be a big difference, and absolutely wrong for that to happen, in my opinion."
Wimbledon's seeding committee often bumps players up the seedings, higher than their rankings, to take into account their pedigree on grass. But moving Nadal above Ferrer would be a tougher call as Ferrer reached the quarter-finals last year while Nadal lost to Lukas Rosol in the second round.
Despite his support for enhancing Nadal's seeding, McEnroe thinks the Mallorcan may struggle to complete a French Open/Wimbledon double.
"Nadal is the fourth most likely guy to win because of what I think may be the toll taken to win the French Open, maybe even more emotionally than psysical.
"He can't impose his will quite the same way on grass as he can on clay but having said it wouldn't shock me if he won it."
Photograph: Clive Brunskill/Getty Images