Five-time World champion MC Mary Kom punched her way to a gold medal in the 51kg category, defeating Pinki Jangra in the final on the concluding day of the 12th Senior Women's National Boxing Championships in Bhopal on Sunday.
In the day's most-anticipated bout, the Manipur ace proved a class above Arafura Games gold medallist Pinki, from Haryana, in the final of the flyweight division, at the Tatya Tope stadium.
Mary Kom thus avenged her 2009 National Championships loss to Pinki, also known as giant-killer in the boxing circuit.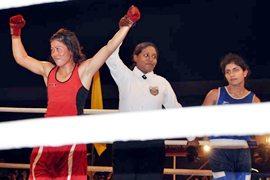 Both boxers opened cautiously, measuring each other before making a move. The score was 1-1 after the opening round, but from the start of the second, the World champion, with a calculative counter-attack, gradually increased the margin.
By the end of the second and third rounds, Mary had established a slender lead of one point -- 3:2, 4:3.
In the final round the 28-year-old switched gears and became more offensive while maintaining a steady defence to reclaim the national crown after a three-year gap. The final score read: 13:9.
There was more good news for Manipur as Youth World champion Sarjubala Devi capped a brilliant performance, claiming the crown in the light-flyweight division.
Up against local girl and National Games silver medalist Krishna Thapa, Sarjubala was down by six points after the first three rounds. But in the final round she made a stunning fightback, launching an onslaught to which Krishna had no reply.
The feisty 18-year-old Manipuri boxer, with her lightning fast combinations, scored 14 points as opposed to Krishna's six in the final round.
In the end, she went on to claim her maiden senior National title with a 36-34 victory.
In the featherweight division, bronze medallist at the Women's Youth World Championship, Pwilao Basumatary of Assam had to settle for a silver medal after losing to Mandakini Chann of AIP.
Chann, a silver medallist at the National Games, put on a brilliant performance, dominating the bout throughout. She won 21-11.
In the lightweight category, Neetu Chahal of Haryana clinched the yellow metal, beating Preeti Beniwal of the IABF team.
Neetu, a bronze medallist at the 2011 Asian Cup boxing tournament and a National Games gold medal winner, registered a 12-5 victory to win her second National Championship gold medal.
Asian Games bronze medallist Kavita Goyat of Delhi successfully defended her title taking the gold in the middleweight division. She defeated Pooja of Haryana 16:11 on points.
In the final medals tally, Haryana bagged the overall title with three gold, two silver and two bronze.
Manipur was second with two gold medals, a silver and a bronze while Railways finished third with two gold and three bronze medals.