Chief Boxing Coach of India G S Sandhu on Thursday said that London Olympic bronze medallist M C Mary Kom still has enough talent to represent the country in at least one more Olympic games.
- I was born to do only boxing: MC Mary Kom
Sandhu, who was in Jamshedpur to take part in a sports seminar, said the temperament and confidence level of the 29-year-old boxer from Manipur is excellent.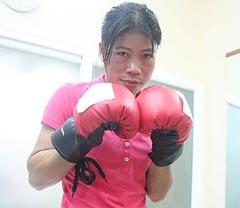 But, he said, Mary Kom would have to maintain her form if she is looking to take part in the 2016 Olympic Games in Rio de Janeiro.
A Dronacharya awardee, Sandhu said around 50 boxers are attending the camp in Patiala with the preparations focussed on the next edition of World Championship to be held in October at Almaty, Kazakhstan.
On appointing foreign coaches, he said there is no harm in that if that is done for short duration but overlooking Indian coaches would not serve the purpose.
Photograph: Uttam Ghosh