Marc Marquez won the German MotoGP on Sunday to go top of the championship in his debut season after previous leader Dani Pedrosa withdrew before the race following a crash on Saturday.
Spaniard Marquez, 20, never looked back after taking the lead on the sixth of the 30-lap race at Sachsenring as he won for the second time this season following his victory at Austin.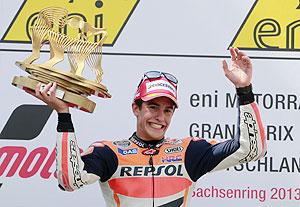 Britain's Cal Crutchlow was second and nine-times world champion Valentino Rossi of Italy was third.
Marquez's compatriot Pedrosa, who suffered a minor fracture to his collarbone after crashing during practice on Saturday, was cleared to take part in Sunday's warmup but felt unwell and withdrew with low blood pressure. He dropped to second in standings.
Jorge Lorenzo, the reigning world champion, also missed the race at the Sachsenring after crashing on Friday, leaving him third in the standings. He has also been ruled out of next week's race at Laguna in the United States.
Marquez, who took pole position, got himself into a tangle early in the race before charging back.
At one stage, he opened up a three-second lead over Crutchlow who made headway in the last few laps but could not get any closer than 1.5 seconds.
"It was an important win, maybe not as good a feeling as Austin," Marquez told Spanish broadcaster Telecinco.
"And also Jorge and Dani were not here and I want to wish them a good recovery, with them here it's different."
Crutchlow defied pain from two heavy falls on Friday as he moved up to fourth in the championship.
"We (Crutchlow and Rossi) had no grip on the first five laps, how we didn't crash I don't know," he told BBC.
Photograph: Thomas Peter/Reuters