Argentina's Diego Maradona, one of the most gifted players in soccer history, showed a slight improvement in his condition by Monday night, 24 hours after he was
put in intensive care
with heart and breathing problems.
Family doctor Alfredo Cahe told reporters outside a Buenos Aires clinic that the 43-year-old was still in a critical stage (in proceedings) and remained on an artificial respirator. The respirator had been turned down to the minimum level.
The medical team will issue a bulletin on Maradona at midday (1500 GMT) on Tuesday.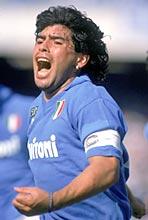 Argentine media ran live coverage from the clinic throughout the day along with clips of his soccer triumphs and his difficult days with drugs.
Earlier in the day, Cahe said Maradona had a lung infection and denied reports he had taken an overdose of cocaine -- an addiction he has been battling for the last decade.
"It is not related to an overdose. Lately, Maradona was not (consuming) cocaine," Cahe told local radio.
After a similar scare in early 2000 Maradona's entourage initially denied cocaine was involved but his cardiologist later told anxious fans to change their placards from 'Hang in there Diego' to 'Damned cocaine'.
Maradona had arrived at the clinic on Sunday in a serious, feverish state with breathing difficulties and a swollen heart, after watching a game at his former club Boca Juniors' stadium.
"(I send him) a big hug, I hope he recovers fast," said soccer-mad Argentina President Nestor Kirchner. "Like all Argentines it causes me deep pain. We must stand by him...He has made all Argentines cry with joy. He is a great person."
Maradona's official website www.diegomaradona.com said the former Argentina captain was taken ill while eating a traditional barbecue after watching Boca at the Bombonera stadium in Buenos Aires where he made his name.
Well-wishers mounted a vigil outside the Suizo-Argentina clinic on Monday, some wearing Boca's blue and yellow strip.
Dozens of fans glued posters of 'El Diez' (No. 10 shirt) in his footballing prime on the clinic's walls.
Some jumped up and down singing soccer anthems at the top of their voices. "Poor little English, how Diego screwed you over!" went one jubilant song.
Others, like 58-year-old cleaning lady Maria Lujan, were more solemn, praying for Maradona on the steps of the clinic.
"Dear Lord, all of us Argentines love Maradona," she intoned,
gripping her pink plastic rosary. "Let him sleep well, let him rest. May all his problems be over."
Local television played footage of Maradona's greatest moments on the pitch and excerpts from past interviews.
"For Argentines who love football, Diego is nothing less than a god and the fact that something bad is happening to him brings huge sadness to us all. I wish I could speak with him," said Valencia midfielder Pablo Aimar.
"If Argentina is known by so many people it is largely due to Maradona," added Aimar, one of several players to have been been dubbed the 'New Maradona'. "I've no idea how he got to reach this state but everyone has to live their own life."
Maradona, the fifth of eight children of a factory worker, was given his first football as an infant and slept with it under his arm.
Rising to stardom from a grimy Buenos Aires slum to lead Argentina to World Cup victory, Maradona's is the ultimate rags-to-riches story in this soccer-mad country and has gained the iconic status of Che Guevara or Evita Peron.
He made his international debut in 1977 and then moved to Barcelona in 1982 after the World Cup in Spain for $3 million, although his two years at the Spanish club were marred by illness and injury.
In 1984 he moved to Napoli for a world record $7.5 million and helped transform a mediocre club into one of the best in Italy.
At the peak of his form, he led Argentina to a 3-2 triumph over West Germany in the 1986 World Cup final.
He scored twice in the 2-1 quarter-final defeat of England, one the infamous 'Hand of God' goal when he fisted the ball into the net and the other a stunning solo effort as he ran through the opposition with the ball seemingly glued to his left foot.
In 1991 he failed a dope test for cocaine and was banned for 15 months.
He played in his fourth World Cup in the United States in 1994 but tested positive for a cocktail of drugs the day before he was due to make his record 22nd appearance.
Maradona was admitted to a Uruguayan hospital in 2000 for hypertension and an irregular heart beat and has spent much of his time since then in Cuba having treatment for drug addiction.
Despite his well-publicised drug problems, Maradona has a widespread fan club with 20,000 people as far afield as Vietnam and Iceland becoming members of the 'Church of Maradona'.
He has also been honoured with a musical about the ups and downs of his turbulent rags-to-riches life, fittingly entitled: 'No. 10 -- Between Heaven and Hell'.
(Additional reporting by Damian Wroclavsky and Luis Ampuero)