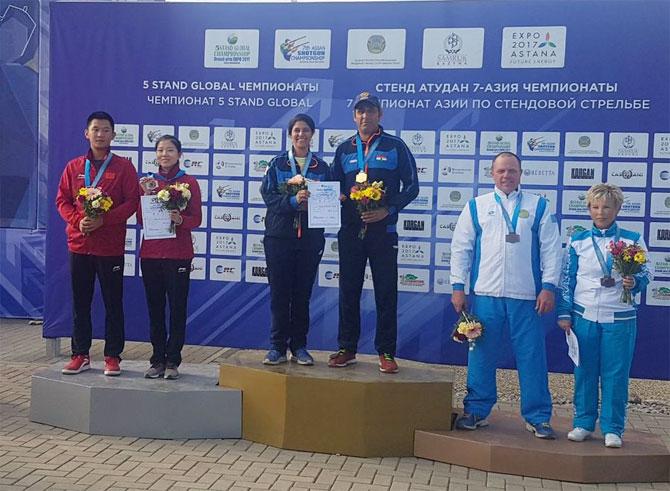 IMAGE: India's Mairaj Ahmad Khan and Rashmmi Rathore with their gold medal (centre) on the podium on Sunday. Photograph: Aman Jng Singh/Olympic Press/Twitter
India finished their campaign at the 7th Asian Championship Shotgun on high as the pair of Mairaj Ahmad Khan and Rashmmi Rathore bagged a gold medal in the skeet mixed team event on the concluding day in Astana on Sunday.
The Indian duo edged the Chinese pair of Liu Jiangchi and Gao Jianmei 28-27 in the gold-medal match. The host combination of Vladislav Mukhamediyev and Olga Panarina won the bronze.
In an event billed as test event, Mairaj and Rashmmi qualified for the semi-finals in fifth place out of 10 teams when they shot a combined score of 93. They scored the same as the silver winning Chinese pair, but came second (4-3) in a shoot-off.
In the semi-final match, the Indians prevailed over the bronze-winning Kazakhstan team 28-27.
India finished the championship with a total of eight medals. Ankur Mittal had earlier won a gold in the men's double trap and had also helped India bag the team gold in the event.
Kynan Chenai won a bronze in the men's trap and also partnered Shreyasi Singh to claim the trap mixed team bronze.
Maheshwari Chauhan also clinched a bronze in the women's skeet, along with a team silver in the event before the men's skeet team picked up another bronze.
The results will serve as good encouragement for the upcoming Shotgun World Championships in Moscow, beginning August 30.