National record holder triple jumper Renjith Maheswary became the second Indian athlete to qualify for this year's World Championship in Moscow as he clinched a gold on the final day the National Inter-State Athletics Championships in Chennai.
Maheswary, representing the home state, crossed the World Championships B standard of 16.85m in his third attempt at the Nehru Stadium here to win the event with an effort of 16.98m, which is also a new meet record.
Sudha Singh of Uttar Pradesh had booked her World Championships berth in the women's 3000m steeplechase event after breaking her own national record.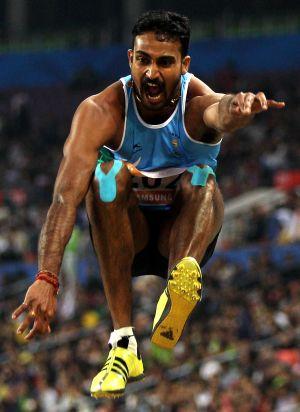 Maheswary and Sudha were adjudged the best athletes in men's and women's sections at the end of the championship.
The day also witnessed Bengal sprinter Asha Roy clinching her second gold by winning the 200 meter race. She had won the gold in 100 meter dash on Tuesday.
Asha claimed the 200m gold in 23.59secs, while Dutee Chand (24.03s) and Srabani Nanda (24.05s) made 2-3 for Odisha.
The men's 200m race saw Maharashtra's Pratiek Ninawe winning the gold medal in a close race. Ninawe managed to win the race with just fraction of a second. He won in 21.65 secs ahead of Jharkhand's Ritesh Anand (21.66secs).
Meanwhile, Kerala bagged the overall champions trophy with 172.5 points followed by Tamil Nadu (147.5 pts).
In the men section, the Tamil Nadu emerged on top of table with 79 points ahead of Haryana (63.5 pts). Kerala topped the women's section with 112.5 points while Tamil Nadu were second with 68.5 points.
Photograph: Mark Dadswell/Getty Images