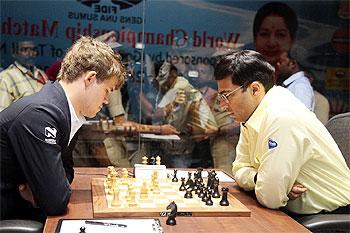 Viswanathan Anand's reign as the World champion came to an end on Friday as Norway's Magnus Carlsen took the crown after a hard-fought draw in the 10th game of the World Chess Championship match, in Chennai.
Carlsen, who will be 23 years of age on November 30, triumphed with two games to spare after taking his tally in the 12-game match to the required 6.5 points out of a possible ten, winning three and drawing seven games.
Carlsen will take home $1.53 million of the $2.55 million prize-money purse, while Anand will get $1.02 million.
In what could be marked as the dawn of a new era in the chess world, Carlsen produced a stellar performance yet again by not going for a tame draw when one was enough for him to take the title home.
Instead, the Norwegian made Anand suffer for a long and gruelling four hours and 45 minutes before emerging triumphant in what was the most one-sided World Championship matches.
Anand had won the Championship in 2000, 2007, 2008, 2010, 2012, but was ironically dethroned in his home town.
In a dubious first, this was the only time he failed to win a single game in a World Championship match.
Starting with his journey in 1991, Anand had always scored at least one victory in each of the matches he played in the last 22 years.
Carlsen was in his element right through the tenth game, getting what he wanted out of the opening and then pursuing on his favourite mission on grinding out opponent. This time, however, Anand did not collapse and came up with some fantastic defenses he is known for to steer the game to a draw.
On expected lines, Anand employed the Sicilian defense and faced the Moscow variation that Carlsen had employed before. There were no surprises early on as both players opted for routine theory and it was a Maroczy bind structure on board after Carlsen came up with a check on move three, parting with his light squared Bishop for a knight.
On move 14, Carlsen took back Anand's light Bishop to even things up and it was again a slow grind thereafter that was been hallmark of Carlsen's play in this match.
With two minor pieces off the board, the position had only a minuscule advantage for white but Carlsen did not go for the draw. It was on the 21st move that many pundits believed both players will be happy to repeat moves.
Carlsen for obvious reasons and Anand because there was not much hope. However, the Norwegian was the first to deviate from a possible repetition.
Anand found some solace after trading another set of minor pieces but the pressure remained on the Indian. Carlsen went for his final liquidation plan on the 28th move when he pushed his king pawn to fifth rank. Anand temporarily parted with a pawn and recovered it some moves later but this led the game to a pure knight and pawns endgame.
To make matters worse for Anand, Carlsen retained his small advantage as his king quickly walked over to the king side and penetrated the fifth rank. Anand's knight and king were confined to the defense and to stop further damage.
The players reached the first time control in just three hours when 40 moves were completed but by then it was also clear that either Carlsen will win or it will be a draw. In either case Anand's campaign was coming to an end and it was a pretty unpleasant task for the five times World champion.
As the game progressed both the players were engrossed in their own ways. Anand showed some signs of nervousness while Carlsen at one point leaned like 'the Crocodile' he wants to be if he was an animal, relaxed but ready to eat the prey when it came his way.
The situation took another dramatic turn on the 46th move when Carlsen sank in to a long thought. The Norwegian looked at the possibilities of sacrificing his last remaining pieces and this is what he did a couple of moves later. In return, Anand lost all his pawns and the players promoted new queens on the board.
Anand had an extra Knight but Carlsen had Queen and a couple of dangerous looking pawns on the queen side.
Finding just the right moves, Anand forced an exchange pretty soon leading to a forced draw. The epic lasted 65 moves.
Image: Magnus Carlsen and Viswanathan Anand during Game 10 of the World Chess Championship
Photograph: FIDE World Chess Championship