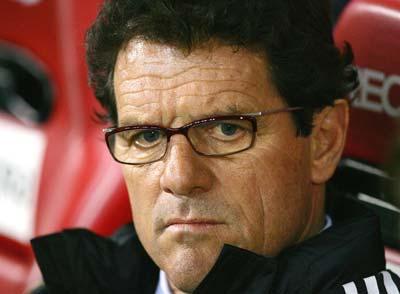 Italian Fabio Capello will take over as the new England football manager after the English Football Association approved his appointment on Thursday night.
Subject to final contractual agreement Capello will succeed Steve McClaren, who was sacked last month after England failed to qualify for Euro 2008, and become the second foreigner in the job following Swede Sven-Goran Eriksson (2001-06).
It is reported that Capello, 61, is now set to sign a contract worth an astonishing £6.5million (approximately US $ 13.3m) a year.
By contrast, Sven-Goran Eriksson was on a deal worth £4million (US $ 8.15m) a year and McClaren on £2.5million (US $ 5.1m).
Capello, a former Italy international who collected 32 caps, won seven league titles in his native country with AC Milan, AS Roma and Juventus although Juve were stripped of the 2005 and 2006 championships won under him in the wake of an Italian match-fixing scandal.
He also coached Real Madrid to the Spanish title in 1997 and again last season, after which they sacked him.
Capello, however, has been unpopular with his former club fans in Italy due to the differences with players like Francesco Totti and Alessandro del Piero. He was also criticised at Real Madrid for not playing David Beckham and Ronaldo.
His finest hour was probably the 1994 Champions League final when Milan destroyed Barcelona 4-0.
His first matches in charge will be a friendly against Euro 2008 co-hosts Switzerland at Wembley on Feb. 6 and a Paris friendly against France on March 26.
Capello's appointment has drawn sharp criticism from Premier League managers Gareth Southgate, Steve Coppell and Mark Hughes.
"When I played (for England) under Sven I felt it was all right to have a foreign coach but I have changed my mind since then," Middlesbrough manager Southgate told newspapers on Friday.
"I don't think an England team should be coached by anyone other than an Englishman."
Southgate's views were echoed by Reading manager Coppell, another former England international.
"I am sad," said Coppell. "I am a proud English manager and would have loved an Englishman to have been in charge.
"You look at the list of contenders and what he (Capello) has done ticks all the boxes but I just wish he was English. We have now created a situation where it is very hard for an English manager to get to the top of the tree."
Hughes, who was in charge of his native Wales before taking the helm at Blackburn Rovers in September 2004, said things were starting to look grim for British managers.
"The longer it goes on that the top jobs go to foreign coaches, the more difficult it will become for English and British coaches to get the big jobs in the future," said Hughes.
"I am disappointed for British coaches because another huge opportunity has been given to a foreign manager."
Photograph: Getty Images | Text: Agencies