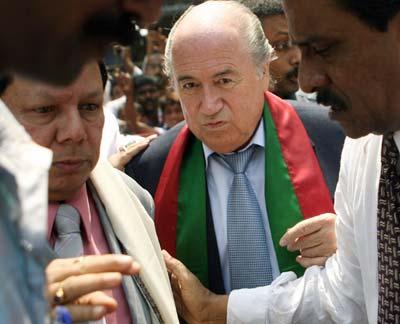 Seventy thousand fans cheered wildly as world soccer boss Joseph Blatter went round the Salt Lake Stadium in Kolkata in an open jeep just before the derby clash between East Bengal and Mohun Bagan on Sunday.
FIFA president Blatter, whose visit may open new vistas for the ailing Indian football, was greeted by hundreds of young boys and girls adorning both sides of the pathway at the entrance of the stadium, each holding a football and singing praise of the visiting head.
After entering the stadium, Blatter was ushered on an open jeep and was accompanied by AFC chief Mohammed Bin Hammam, AIFF chief Priya Ranjan Dasmunshi and West Bengal sports minister Subhas Chakraborti.
But soon after Dasmunshi and Chakraborti got down and football stars Baichung Bhutia, Jose Ramirez Barreto and Alvito de Qunha boarded the vehicle.
With a military band at the vanguard, a cheerful Blatter completed the lap waving to the crowd who burst in deafening applause.
In the gallery, youths carried posters with Blatter's photographs and held placards welcoming the seasoned soccer administrator.
Blatter was then introduced to players of both teams and presented FIFA memento to the rival clubs.
East Bengal officials presented the club's red and gold jersey to Blatter.
The stadium wore a festive look with colourful flags all round and an all new air-conditioned VIP box especially constructed for the FIFA chief.
Photograph: DESHAKALYAN CHOWDHURY/AFP/Getty Images