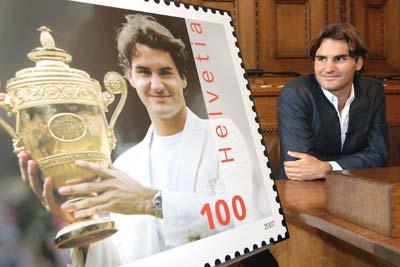 World number one Roger Federer became the first living Swiss person to have his picture enshrined on a postage stamp.
"It's a great moment. I'm proud to be a symbol like the army knife or the mountains," Federer said at an unveiling ceremony for the Swiss postal service in Basel.
The new 1.00 Swiss franc (0.82 dollars) stamp has the picture of Federer holding aloft his fourth Wimbledon trophy. Switzerland traditionally did not have personalities on postage stamps, except for historical figures.
"If you can come up with any Swiss personality who can equal Roger Federer's prestige, in any domain, I'm ready to follow you," said Swiss Post's chief executive Ulrich Gygi.
Federer, who was knocked out by Guillermo Canas at Indian Wells and Miami, has warned his rivals that he is fully fired-up for the start of the claycourt season despite his recent shock defeats.
"They were tough matches for me and Miami hurt in particular because losing 7-6 in the third set is never fun," he said.
Federer has not played a match since his second defeat to Canas on March 27 and he is hoping his rare slump could even prove a blessing in the long-term - by giving him more time to prepare for his tough summer schedule.
"That's the only advantage I can see, because it has definitely taken away my confidence a little bit, but it has also given me more time and maybe that is just as good a thing."
Despite playing mainly on clay as a youngster, Federer has rarely managed to play at his formidable best on the surface.
As a result, he is still chasing his first French Open title - the only Grand Slam tournament still to elude him.
"Last year I couldn't win a single claycourt tournament, so I want to do that this year, and the French Open is obviously huge for me as the one Slam I haven't yet won," Federer said.
Photograph: Getty Images