The excitement was palpable at the India Community Centre's (ICC) recent 4th annual fundraiser after three of its table tennis players -- Ariel Hsing, Lily Zhang and Timothy Wang -- were chosen to represent the United States at the London 2012 Olympics.
The Indian Community Centre in California has coached all three players representing the US in table tennis at the Games.
The students represent not just a city or state in America, but just one ICC centre.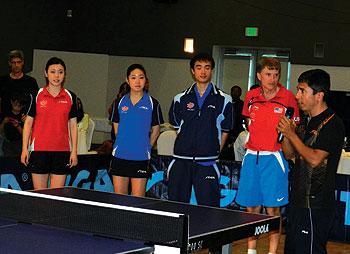 "That is truly amazing," said Anil Godhwani, co-founder of both the ICC and its table tennis centre.
"I am very excited about the three kids."
ICC, a nonprofit organisation started its table tennis programme in 2005 with three tables in a rented facility. It now owns a 10, 500 square feet facility dedicated only to table tennis.
The centre is considered North America's largest dedicated table tennis centre and now it is home to the US Olympic team.
The annual fundraiser at ICC's main building in Milpitas, California, raised $55,000 intended to fund the organisation's Junior Training Programme, the very programme that provided support and training to the London-bound trio.
- London Olympics 2012 - Complete coverage
Godhwani, who plays table tennis six mornings a week, said the community centre is about bringing people together, and table tennis is very much part of that.
"We have identified a group of people for 2016 Olympics and already have a training method in process," said Rajul Sheth, ICC's director of sports and recreation, and a table tennis coach.
"It is a dream come true for me. I set a goal in 2008 to have one player from my club go to the Olympics, but I never thought that the entire US Olympic team would be from the ICC!"
Sheth joined ICC in 2005 and started what was then a part-time table tennis programme. Describing the growth of table tennis in the Bay Area, he said he started with about 10 children initially and worked hard with them for a year. They excelled at the national level and, suddenly, the ICC table tennis programme became popular.
"We had over 60 kids training regularly in 2007 and we moved our table tennis programme on 12 tables in the ICC banquet hall. In 2008, the programme grew to over 100 regular students and we moved to the current full time facility with 22 tables of international standards," Sheth said.
To its credit, the ICC now has 330 dedicated table tennis members, seven full-time coaches, 12 part-time coaches, 140 students under regular training, over 800 registrations at the summer camps, 120 league players and four USA Table tennis-sanctioned major tournaments every year.
"We also gave them an opportunity to train with former World champions Stellan Bengtsson, Zoran Kalinic, Gao Jun and invited them at the ICC for elite camps," Sheth said.
As a final touch, the ICC hired the International Table Tennis Federation's high-performance coach Massimo Costantini (head coach for the Indian team at the Commonwealth Games) on a full-time basis.
None of the players in London are of Indian origin. But Godhwani hopes that at the 2016 Olympics, there will be Indian-Americans as well.
"It was hard to convince Indian parents (to focus on table tennis)," Godhwani said.
"Generally, Indian parents want to see the success first before they try something. Now with this example before them, they all are willing to work hard."
Manas Deb, the father of Ishana Deb, 11, who represented the US at the World Hope Table Tennis event in Sweden in June, admitted: "Yes, playing table tennis requires many hours. It's tough and sometimes stressful, especially at the initial stages."
Ishana was the only girl selected to represent the US at the event. She dedicates two hours a day to training and is a contender for the 2016 Olympics.
"Today I feel proud of her," Manas Deb said. "She is quite motivated."
Ishana, said, "Study is my first priority but I like playing table tennis. I think both are important."