Switzerland footballer Michel Morganella has been expelled from the London Olympics for posting a racist message on Twitter.
Swiss Olympic team chief Gian Gilli says Morganella is being stripped of his Olympic accreditation ahead of Switzerland's final group match against Mexico on Wednesday.
He "discriminated against, insulted and violated the dignity of the South Korea football team as well as the South Korean people," Gill said through a translator at a news conference Monday.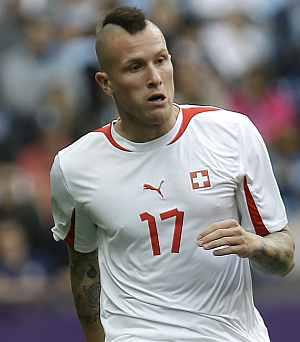 Morganella posted an offensive and threatening message aimed at South Korean people after the Swiss team lost 2-1 to South Korea on Sunday.
Swiss daily Le Matin published images of a tweet from the player's account (at)morgastoss. The account has since been deleted.
The 23-year-old defender is the second Olympic athlete kicked off a team for offensive Twitter comments.
Greece dropped triple jumper Voula Papachristou last week after she posted a comment mocking African immigrants.
Photograph: Hussein Malla/AP