Nothing has ever come easy for Oscar Pistorius. And certainly not the first Olympic final for the double amputee runner.
A simple 4x400-metre relay heat turned into high drama when South Africa first crashed out of the race with Pistorius waiting for a baton that never arrived in the changeover zone. Almost two hours later, a jury of appeal surprisingly ruled to give Pistorius's team Lane 9 — which otherwise would have been vacant — in Friday's final because it could not be blamed for the collision with Kenya.
"Emotional roller coaster!" Pistorius sent in a Twitter post. "Really can't wait!"
South Africa won a silver medal at last year's world championships and now has a chance at an Olympic medal.
First, the South African team never made it to the third section of the 4x400-metre relay in the opening heat after Mogawane crashed, leaving Pistorius no chance to run.
When he realized the race was lost, Pistorius raised his hands to his head, and waved his arms down in frustration. "It's not the place you want something like this to happen," Pistorius said.
The judges later ruled that Kenya's Vincent Kiilu had cut across Mogawane, causing the collision and leaving the South African with a dislocated shoulder. At first, Pistorius could not believe they would be added to the final.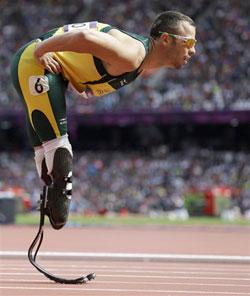 "Even a protest isn't any consolation," he said immediately after the heats.
Then came the surprising ruling.
"The Jury of Appeal met and agreed to advance the South African team to the final, even though they did not finish the race, considering that they had been severely damaged in the incident with Kenya," the IAAF said in a statement. "South Africa will run as an additional team in lane 9."
It is rare for a team to get reinstated if it doesn't reach the finish line.
This time a ruling went his way within hours.
His entire track career he's been trying to prove he's good enough to compete with the best. He even had to fight the international governing body for athletics, taking his case to sport's highest court to be allowed to compete against able-bodied athletes on his carbon fiber blades. Some still argue they give him an unfair advantage, but he was cleared to compete in 2008 and has never looked back.
Now Pistorius still has the chance to leave the London Games with something more than the distinction of becoming the first amputee athlete to run in an Olympic track and field competition.
The loss, beyond South Africa's control, was tough to deal with.
"It's frustrating. It's so hard. You have so much support from back home," Pistorius had said. "We're all pretty battered," she added.
Together with anchor runner Willem De Beer, he tried to walk over to his injured teammate but track officials held them back. Pistorius was left to applaud Trinidad and Tobago, which won the heat, ahead of Britain.
Beyond Kenya, Jamaica was another medal contender failing to reach the final after Germaine Gonzales slowed to a walk and sat on the track, holding his left hamstring. Australia and Germany also failed to go through.
For Pistorius, the early exit in the race happened in the blink of an eye.
He had been looking at the giant screen to follow the progress of the race and when he turned to get set in position to receive the baton, the collision had already happened.
"Things do happen in relays and just sorry it had to happen on a day like this," he said. Now, he still gets a second chance.
The Bahamas won the second heat ahead of the United States.
In the decathlon, two-time world champion Trey Hardee cut Ashton Eaton's lead to 99 points after seven events, closing the gap with better performances in the hurdles and discus.
World-record holder Eaton had a 220-point advantage over his U.S. teammate after the first five events Wednesday but Hardee reduced the margin by running the fastest time in the 110-meter hurdles — 13.54 seconds — and finishing third in discus throw, at 48.26 meters.
Eaton posted the second-best hurdles time (13.56) but his 42.53 in the discus was only 22nd in the rankings.
With the pole vault, javelin and 1,500 meters to go, Eaton had 6,409 points and Hardee had 6,310.
Eaton broke the decathlon world record at U.S. trials in June when he finished with 9,039 points.
Photographs: Martin Meissner/ AP Photo