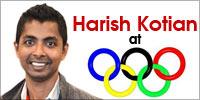 Olympians from China and Britain have been reunited in London -- 64 years after they competed against each other at basketball in the 1948 Olympic Games.
Britain's Lionel Price and China's Wu Chengzhang played in opposing teams, and both expressed their delight at meeting each other again.
Wu said he was very happy to be back in London, and said how the city feels familiar, while commenting on how impressed he had been by the many new buildings he had seen on a bus tour.
He thought that he had brought luck to Team Great Britain as since his arrival Britain had won six gold medals!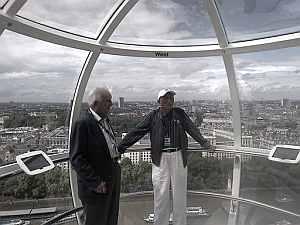 The pair discussed how the Olympics had changed since 1948, particularly how much more professional the Games and the participants had become.
Price recalled how the Olympics of 1948, which have been labelled the Austerity Games, came just three years after the end of World War Two.
They had used facilities that were already in place, such as Wembley Stadium, Wembley Pool, facilities in Haringey for the basketball matches, Richmond Park for horse riding and Herne Hill for cycling.
The Chinese were better kitted out Price said, adding that he had been given one singlet for six matches; one pair of very short shorts; one tracksuit and one blazer made of thick wool -- the only material available even though temperatures were in over 90 degrees Fahrenheit (over 32 degrees Celsius).
Price still owns the singlet and shorts, which he showed the audience, as well as a battered Panama hat, which he had acquired, from a leading American athlete, in exchange for his own beret.
The two veteran players were then taken on a visit to the South Bank and a ride on the London Eye. Then they went to see a rematch between China and Great Britain – in 1948 the Chinese won by 54 to 25.