Somdev Devvarman asserted that the shoulder injury which kept him away from competitive tennis for eight months, will not have any impact on how he plays his game when he competes at the London Olympics.
"Look I have been preparing and playing for last 15 years and by now I am feeling superb and mentally prepared of good showing," Somdev said during an interaction at the Games Village.
"After the Asian Games at Guangzhou, where I was at my peak, I played against the top players of the world – be it Nadal, Federer or Murray. I also beat some players who were among the top 30. I was number 62, the highest ranking any Indian man had earned after Ramesh Krishnan," he added.
Asked how his shoulder has responded after coming back from injury, he said, "This is the first time in my career that I had such an injury. My shoulder used to hurt but I overlooked it and then it became quiet bad. So I had surgery in November and now I am fully fit."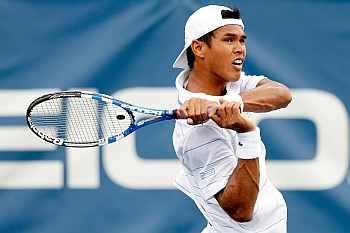 Somdev will feature in the men's singles as a wild card entrant.
"The news that I got a wild card for the Olympics was not a total surprise, I had a chance, though I will not say that I expected it. Anyway I am happy that I got it," he said.
Somdev made it clear that he will be concentrating on singles for some more years.
"Oh yes that is for sure, I am 27-year old and have few more years to go, so I will prefer playing singles that is my goal for now. When I started playing, my dream was to represent the country. The dream has been fulfilled. I have been lucky to do something for my country. I became the first Indian to win a singles gold in Asian Games. I have done reasonably well in Davis Cup."
He said he had some highs and few lows in his career but "I suppose this happens with every player. Tennis has become a very demanding sport and it impacts you body. But you have to live with it."
Somdev said he is keen to meet basketball players from USA and Usain Bolt during his stay in the Village.