Former Olympic champion Liu Xiang wants to return to competition after crashing out of the 110 metres hurdles heats at the London Games last week with an Achilles tendon injury, Chinese state news agency Xinhua reported on Tuesday.
"It's all going well, just another scar for me," Xinhua quoted Liu as saying on his return home to China after surgery in London.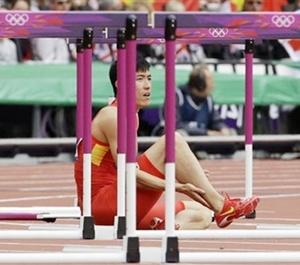 "I'm mainly recuperating now, as at the moment I can't move, so I have to rest quietly," he said, adding that he might be able to start jogging after about two months.
Asked if he wanted to return to the track to compete again, Liu said: "Of course, of course I want to."
Liu's Olympic dreams were left in tatters for the second successive Games when he smashed into the first hurdle in his 110 metres heat in London.
The 2004 champion was forced to withdraw at the start of his heat in front of his home crowd in Beijing four years ago with an Achilles injury.
Liu's coach and mentor Sun Haiping added that his return to competition "totally depends on how he recovers".
Photograph: AP Photo