Soumyajit Ghosh's Olympic campaign in the table tennis event came to an end after the youngster fought valiantly before going down to Bong Hyok Kim of North Korea in the men's singles second round at ExCel.
With Ghosh's exit, the Indian challenge in table tennis has come to an end as the other paddler, Ankita Das, had lost in the first round of the women's singles on Saturday.
Ghosh, an 18-year-old paddler from Siliguri, could not match his much stronger opponent who carved out a 9-11, 11-6, 11-5, 11-9 victory in a tussle, which lasted for close to 35 minutes.
Ghosh started well by clinching the first game, taking his rival completely by surprise, but the Korean recovered his poise to clinch the remaining four games in a stunning exhibition of attacking play.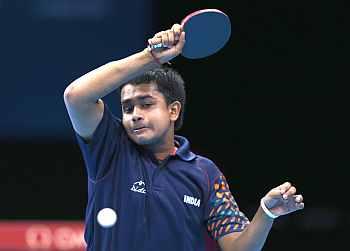 "I think I was tense about the result and couldn't play well. The fourth was good, it was 4-0, and then 9-8 but he was better than me and he won. I could have won but he was better than me at the table," Ghosh said after the match.
"He is 77 better than me in the world rankings, but I can take the experience from my first Olympic Games and come back better. Success does not come easily," he added.
It took the Korean just 25 minutes to see off the Indian who was making his maiden appearance at the mega event.
Ghosh had made a memorable debut at the Games by winning his first-round match against Brazilian Gustavo Tsuboi 4-2 on Saturday.
But unlike in his opening match, Ghosh was not his usual self and made quite a few errors, which proved to be crucial in the end.
The match ended when Ghosh netted a backhand following a long rally.
Photograph: Feng Li/Getty Images