India's star grappler Sushil Kumar stormed into the final of men's 66kg freestyle category in the London Olympics, defeating Akzhurek Tanatarov of Kazakhstan on Sunday.
-London Olympics 2012 - Complete coverage
Sushil Kumar has become India's only athlete to win two consecutive individual Olympic medals as he assured himself of a silver medal.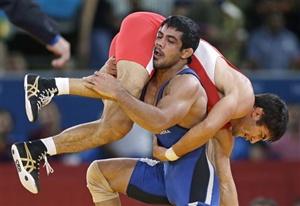 Sushil staged a dramatic comeback as he was trailing 0-3 in the third period to upstage his opponent.
He displayed nerves of steel and seal the final berth.
In the quarterfinals he beat Navruzov Ikhtiyor of Uzbekistan.
Sushil, Beijing Olympics bronze medallist, prevailed 3-1 over his Uzbek rival to keep India's flag flying on the last day of the London Games.
In the quarter-final round against Ikhtiyor, Sushil pocketed the first period easily.
With a point in his kitty, the Indian wrestler was in total control in the second two-minute period as well till he conceded a point to his opponent in the last six seconds to give Ikhtiyor the opportunity to drew parity in the bout.
However, Sushil meant business in the final period and won it 2-0 to seal the tie and a place in the semi-finals.
Earlier in the day, Sushil came from behind to beat defending champion Ramazan Sahin of Turkey 3-1 in his opening bout.
Both the wrestlers got a bye in the first round.
The final will start at 1830 IST.
Photograph: Paul Sancya/AP Photo