For most young boys growing up in cricket-crazy India, walking out on the hallowed turf at Lord's is the stuff dreams are made of. Archer Tarundeep Rai is no different.
Rai is part of the Indian men's archery triumvirate with Jayanta Talukdar and Rahul Banerjee competing at the London Olympics and hopes they can grab a podium place.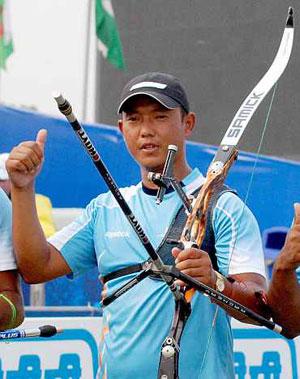 South Korea are the favourites after winning the last three Olympic team gold medals, though the United States are expected to run them close in London with world number one Brady Ellison anchoring the team.
"Before I came here I thought that Lord's always favoured Indians when they play cricket and I hope this will continue with archery," said Rai.
"It is a great opportunity to come here and play. At home we call Lord's the 'Mecca of cricket'. It is a dream come true to come to such a historic venue."
Teammate Talukdar said holding the competition at Lord's had put archery on the map in India.
"When I used to tell people that I did archery they didn't know what it was, but since the Commonwealth Games at home, people know what it is now.
"When they heard the archery was at Lord's that was when they became really interested in archery at the Olympics."
Rai also hoped England's large Indian community would provide strong support.
"I hope most of the Indian people here will come and see us. We don't have many spectators in our national tournaments so I hope spectators will come.
"Maybe they will come just to see Lord's and then see the archery also. At home people will be watching because this is Lord's."
India's preparations for the archery competition, which starts on Friday, have been interrupted by illness.
Several team members fell sick due to the change in climate from the sweltering heat of India to cool, wet weather in the British capital, though they had tried to prepare for the changing conditions in training.
"We have shot in very, very cold places. We went to the border of India and China and it is very cold there," said Talukdar. "We went there because we thought it would be cold here."