Parupalli Kashyap played his heart out before going down fighting to world No 2 Lee Chong Wei in a gruelling quarter-final of the men's singles badminton event at the London Olympics on Thursday.
The Indian ace, who gave a heart-warming performance in the earlier round against Sri Lanka's Niluka Karunaratne , dived, smashed, retrieved almost everything thrown at him but still could not stop the top seeded Malaysian from scoring a 21-19, 21-11 victory to advance to the semi-finals at the Wembley Areana.
- London Olympics 2012 - Complete coverage
Chong Wei will meet countryman Chen Long while Lin Dan will clash with either Chen Jin or Lee Hyun II of Korea.
- Saina Nehwal tames Tine Baun to enter SF
Kashyap dominated the first game initially and dictated the pace of the game to open up a 11-8 lead at the break.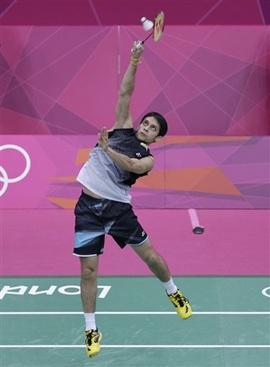 But Chong Wei varied the pace of the rallies and clawed back to level the scores at 15-15.
Kashyap matched his superior opponent stroke for stroke and did not give up. In fact he even forged ahead at 19-18. But in the end it was the Malaysian's experience that forced him into commiting errors.
In the second game, Chong Wei got off with a flourish as he mixed his strokes beautifully and executed his smashes to perfection to floor Kashyap. He led 11-6 at the break.
The Indian showed some spark but in his pursuit to match the Malaysian's strokes, he ended up committing unforced errors.
With Chong Wei ahead 20-10, Kashyap saved a couple of points, but it was all over when his return went into the net.
Earlier,  Saina Nehwal exhibited excellent court-craft and unflinching attitude to defeat senior opponent and two-time All England champion Tine Baun of Denmark 21-15, 22-20 in a pulsating quarter-final clash that lasted 37 minutes.
Photograph: Saurabh Das/AP