Beijing Games gold medallist Abhinav Bindra may have crashed out of the 10m air rifle event at the London Olympics after poor display in the qualifying rounds, but his father, Dr A S Bindra, is not dejected.
"I am satisfied with the fact that he fought like a brave sportsman, which matters more than winning. I am also happy that Gagan Narang has made the nation proud by winning a medal," Bindra Sr said at his residence in Zirakpur, near Chandigarh.
- Gagan Narang wins 10m Air Rifle bronze
He said it was just not Abhinav's day, though he had left no stone unturned in his preparations.
- London Olympics 2012 - Complete coverage
"I think lady luck did not smile on him today. It was not his day. In sport, it has to be your day, your time and all things have to fall in place," he said, adding that a lot of spotlight was on his son and everybody expected him to win.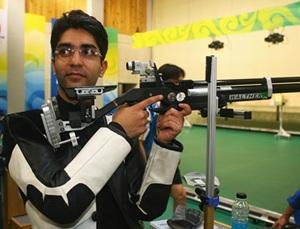 Bindra said Abhinav had practiced hard for the mega event.
"He was not short of practice. He had been training hard and scored high in the run-up to today's game," he said.
He said that they would also like to take consolation from the fact that he won an Olympic gold four years back.
"He has done it for India earlier, winning a gold and winning a World Championship. Today, somebody else has performed better than him and we accept it with grace," the industrialist father said.
Bindra said though he has not spoken with his son, the message from the family would be: "We are proud of you son. You fought like a brave sportsman."
"He will be reaching here in 3-4 days time. Whether he has that spark for the next Olympics, he has to decide," he said.
The 29-year-old marksman, who scripted history four years ago by becoming the country's first-ever individual gold medallist in the Olympics, shot 594 out of 600 to finish a shocking 16th out of 47 competitors and lost the golden chance of becoming the world's first shooter to win two successive gold medals at the mega event.