Athens Olympic champion Taufik Hidayat has criticised badminton's ruling body in the run-up to this year's London Games after Indonesia crashed out of the Thomas Cup.
After suffering a 3-2 quarter-final upset by Japan in the team event in Wuhan, China, the 30-year-old also hit out at the decline in badminton standards in Indonesia.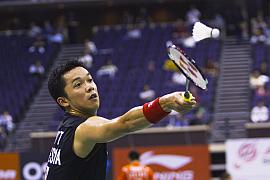 "It all goes back to commitment and I see it lacking over the years," Hidayat told Malaysia's Star newspaper on Friday after a surprise loss to Japan's Kenichi Tago.
"There is also heavy politicking going on -- maybe similar to that in Malaysia," added the 2004 Olympic champion.
"When I call it quits, Indonesia will have to bank on Simon Santoso and Hayom (Rumbaka) -- but where are the others? Hayom couldn't even handle the pressure."
Hidayat added: "Markis-Hendra (Setiawan) only just missed out on qualification for the London Games. They could have made it if they had competed in the Australia Open. Where is their commitment?
"The PBSI (Indonesian Badminton Association) have to work harder to widen the pool and find quality players. The present indifferent culture has to change."
Hidayat also called for the Badminton World Federation (BWF) to change the Olympic qualifying rules.
"I hope the BWF will seriously do something about the Olympic qualifying format or risk getting badminton dropped from the Games," he said.
"(They) have to change and tighten their rules. I'm fed up of seeing matches between players from China declared as walkovers."
Photograph: Athit Perawongmetha/Getty Images