Tirunesh Dibaba of Ethiopia pulled away with 600 meters to go and won the 10,000 meters at the London Games on Friday to defend her Olympic title.
-London Olympics 2012 - Complete coverage
Dibaba, who clinched the first women's long-distance Olympic double in Beijing four years ago by winning the 5,000 and 10,000, collected the first track gold of the London Games in 30 minutes, 20.75 seconds.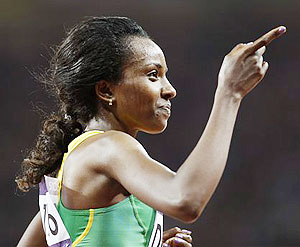 Kenyans won silver and bronze, with Sally Kipyego finishing second in 30:26.37 and world champion Vivian Cheruiyot placing third in 30:30.44.
Dibaba, who missed the 2011 season with an injury, tucked in behind the leading pack until forcing the pace with three laps to go. The Kenyan pair went with her and Werknesh Kidane until Dibaba kicked again.
"I have never been happier like today," Dibaba said, adding that it was a better feeling than winning at Beijing. "It's very special. I have worked very hard for this. No one has ever done what I did today. I won (back-to-back) 10,000 gold medals and one 5,000."
Photograph: Anja Niedringhaus/AP Photo