Chinese swimmer Lu Ying, fresh from winning a silver medal in the women's 100 metre butterfly, spoke out after the race against the Chinese training system, in a rare display of criticism from one of the country's athletes.
-London Olympics - Full coverage
Lu, who went to Australia to train in 2008, criticised the tough Chinese training regime, saying it did not offer enough chance for athletes to enjoy themselves in other ways.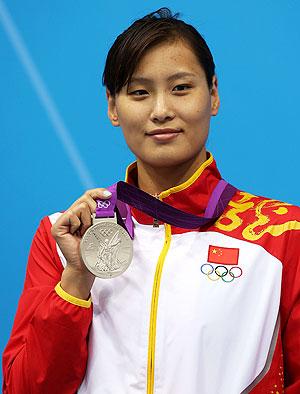 "In China we're used to study, study and train, train and then rest," she said via an interpreter at a press conference following her race on Sunday.
"I think our way of thinking has many limits. In Australia I've been invited to barbecues with my teammates -- that would never happen in China."
Athletes in other countries were not afraid to have fun as well as train, said 23-year-old Lu, whereas coaches in China would insist that athletes train and then rest and stay focussed on the competition.
China has risen fast up the Olympics medals table since it started competing fully in the Games in 1984, sweeping into first place when it hosted the Olympics four years ago.
It has already made a strong start to London 2012, leading the medals table at the end of day two.
Although China is known for employing unyielding training methods which begin at an early age, Chinese athletes rarely speak out against the authoritarian state.
Lu Ying, a relative unknown, beat Australia's Alicia Coutts into third place in the women's 100 metre butterfly on Sunday, and was only topped by Dana Vollmer, who took the world record alongside the gold.
Lu will compete again on Friday in the 4x100 medley relay.
Photograph: Clive Rose / Getty Images