Usain Bolt raced to the rescue to help fellow-Jamaican Samantha Albert on the long and tortuous road to the London Olympics. The triple Olympic sprint champion donated and signed three of his designer running shirts.
Italian jockey Frankie Dettori chipped in with dinner for four at the London restaurant he owns.
Every prize in the raffle helped raise much-needed funds for Albert and her dashing grey Danny who are now on course for the three-day event at the 2012 Games, being staged next week against the dramatic backdrop of the Royal Naval College in Greenwich.
The raffle raised 3,000 pounds ($4,700). Now she is having another one at her local village pub with the landlord putting on a Jamaican evening with jerk chicken and shots of rum for all.
"Usain Bolt very kindly signed three shirts and wrote some cards saying 'Good luck Sam, and see you in the village.' He was very positive," said Albert, the only white competitor in the Caribbean island's Olympic team.
Albert, born in Canada to an English father and a Jamaican mother, took her mare Before I Do It to the 2008 Beijing Olympics where she became Jamaica's first equestrian competitor. They sailed through the dressage, completed a tough cross-country course but then were eliminated in the show jumping after two refusals.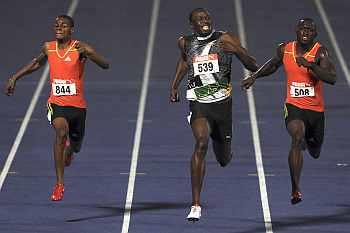 This time it is the turn of Danny, who used to be ridden by Britain's Tina Cook. They just qualified for the Olympics in the nick of time in February at Ballindinesk in Ireland. It was real heart-in-your mouth stuff as her first choice horse, Squirt, stopped halfway round and said "No, I am not doing this any longer. He just stopped," Albert said.
Danny, who had been cross-country schooled only once in the winter, qualified.
"I burst into tears with the whole relief of it. I couldn't believe I had done it," Albert told Reuters, sitting at the kitchen table in Yew Tree Stables, nestled in the lush heart of the southern English countryside.
CONSTANT NIGHTMARE
The 12-year-old gelding then paraded proudly past the kitchen window, rippling with good health after an early morning session on the horse walker at the stable where Albert teaches.
"He has had some niggling issues with his foot. But I am very happy riding him and he is a very, very good jumper," said the 41-year-old Albert, who was married to Swedish eventer Dag Albert.
Funding is a constant nightmare for Albert who reckoned it cost 25,000 pounds to get just one horse to the Games. Some funding came from the Jamaican authorities. Otherwise it is cap in hand time for private sponsors. "It is hard," she said with feeling.
After Beijing Albert, in an echo of Steve Redgrave's pledge never to row again after four Olympics, only to go for a fifth, told a friend: "Please don't ever let me do it again. But I just love it, the whole thrill of it."
Eventers are overjoyed their sport is being given such a high profile at London 2012 with its majestic and television-friendly Greenwich backdrop.
"For us of course, it is going to be amazing," Albert said.
"Equestrian was the first event to be sold out completely. I know it is elitist but it is one of the toughest sports. It is also spectator friendly"
The sport has worked hard to improve safety.
"We had nine riders killed in one year back in 1999. They are now trying to build the fences differently. They have made these frangible pins - if a horse hits the fence, the pins disperse and the fence collapses. Everyone knows it is a risky sport. But if you are worried about going out there and getting hurt you should be giving up," Albert said.