David Beckham will help bring the Olympic flame to Britain on Friday after he takes part in a formal handover ceremony in Athens, London 2012 organisers said.
The former England soccer captain, a London 2012 'ambassador' who was on the bid team in 2005, will be part of an official delegation led by Britain's Princess Anne and LOCOG Chairman Seb Coe.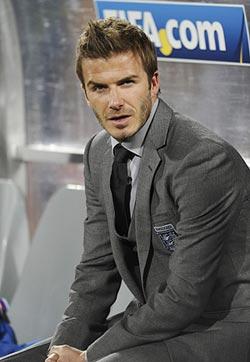 London Mayor Boris Johnson and Hugh Robertson, minister for Sport and the Olympics, will also be present at the Panathenaic Stadium.
The flame will then be flown to Culdrose naval base in Cornwall on the south-west tip of England before triple Olympic gold medal winning sailor Ben Ainslie starts the relay in Britain from Land's End on Saturday.
Beckham, now 37 and playing for the LA Galaxy in the United States, will be joined in Athens by five young Britons invited by organisers LOCOG and the British Council in recognition of their commitment to sport and promoting Olympic values.
They will also play a role in the handover ceremony.
"We wanted to involve young people from across the UK in bringing home the Olympic Flame," said Coe in a statement.
"Their stories of personal achievement and contribution to sport echo the 8,000 inspiring torchbearer stories that will be shared from this weekend and over the next 10 weeks in the build up to the start of the Games."
The Games opening ceremony at the new Olympic Stadium in east London, not far from Beckham's childhood home, will be on the evening of July 27.
The flame, which will be "laid to rest" at the Parthenon in Athens on Wednesday night, was lit by the sun's rays at the site of the ancient Games at Olympia last week and has been travelling around Greece since then.
The 70-day British leg of the relay will use 8,000 torchbearers and travel 12,800km around the country, taking in 1,018 communities.
"Bringing the Olympic flame back from its ancient home in Greece is a hugely symbolic moment which will ignite people's hopes and aspirations for what will be a summer like no other," said Johnson before heading to Athens.