World and Olympic 400 metres freestyle champion Park Tae-hwan of South Korea was disqualified on Saturday in the first big shock of the swimming competition at the London Games.
Park, a national hero to his compatriots after winning gold in Beijing four years ago, paid the price for a schoolboy error in a heat he should never have lost.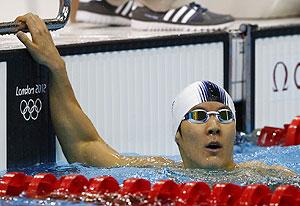 Officials at the Olympic Park's wave-shaped Aquatics Centre ruled that he had made a false start and scrubbed him from the times.
"That's the Olympics," said Canadian Ryan Cochrane, who qualified at Park's expense in the eighth place slot with China's Sun Yang now the clear favourite for gold in the absence of his big Asian rival.
Park, who became South Korea's first Olympic swimming champion in Beijing when he was quickest off the block in the final to win ahead of China's Zhang Lin, appeared baffled by the decision.
Had he hesitated only a fraction of a second, he would have been in the clear in a distance where such a delay can easily be made up.
The setback was the latest in the career of a swimmer who had been expected to take on the mantle of retired Australian Ian Thorpe as the dominant swimmer in the men's 400 but has struggled to do so.
After Beijing, the Korean failed to qualify for the final at the 2009 world championships in Rome but won the title in Shanghai last July despite scraping into the final with only the seventh best time.
Photograph: Michael Dalder / Reuters