The mother of Commonwealth Games gold medal winning archer Deepika Kumari is very confident that her daughter would return home with a medal, of whatever hue, from the London Olympic Games commencing next week.
"She will return with a medal -- gold, silver or bronze," said Geeta Devi, who was felicitated here along with the mothers of men's hockey team member Sandeep Singh, woman shuttler Ashwini Ponnappa and wrestler Yogeshwar Dutt, all part of India's 81-strong Games contingent.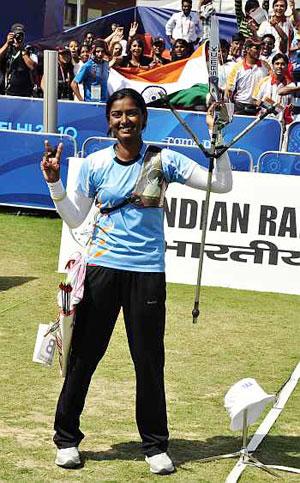 Daljit Kaur (mother of Sandeep), Geeta Devi, Kaveri (mother of Ashwini) and Sushila Devi (mother of Yogeshwar) were part of the "Thank You Mom" campaign initiated by Procter and Gamble ahead of the Games that kick off on July 27.
Geeta, a nurse by profession, said the success of her 18-year-old daughter has prompted many other girls in her neighbourhood to take to archery but lack of proper facilities was hampering their ambition.
"My younger daughter Vidya has now followed Deepika's footsteps and taken up archery as her pursuit."
Ashwini's mother Kaveri, meanwhile, said her daughter showed signs of becoming a sportsperson when she was just two-and-a-half years old.
"I had gone to my mother's place to deliver my son when Ashwini was two-and-a-half years old. She started picking up an old badminton racquet in the house to play with a paper rolled into a ball. Qualifying for the Olympics is a dream come true for her," said Kaveri, an insurance firm employee.
The mothers of Sandeep and Yogeshwar said their sons showed a lot of interest in taking up their respective games from a young age and did not show inclination to play any other sport.