Olympic champion Ryan Lochte won the men's 200 metres backstroke world title on Friday to claim his third gold medal of the world championships.
Lochte clocked one minute, 52.96 seconds to win gold, while Ryosuke Irie of Japan took silver in 1:54.11 and Tyler Clary of the U.S. finished third in 1:54.69.
The 26-year-old American, who won the world title in Melbourne in 2007 before he took Olympic gold in Beijing, had finished third behind the now retired Aaron Peirsol at the last world championships in Rome in 2009.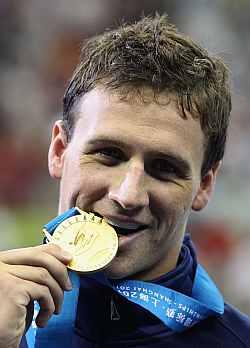 He led from start to finish on Friday, rarely being challenged until the last few metres when the victory was assured.
His victory in the 200 backstroke came on the back of winning gold in the men's 200 freestyle and 200 individual medley in Shanghai. Both times he beat Olympic champion Michael Phelps into second place.
He could notch his fourth gold of the championships later on Friday in the final of the 4x200 freestyle relay. The United States, without Lochte and Phelps, were fastest qualifiers for the final by almost two seconds.