Ryan Lochte of the United States smashed his own world record to win the 200 metres individual medley at the world short-course championships on Friday and then shocked the crowd by giving his medal to a fan.
Lochte finished in one minute 49.63 seconds to shatter the mark of 1:50.08 he set in December 2010 at the worlds in Dubai.
It was his fourth title at this year's championships after he claimed golds in the 200 freestyle and 4x100 freestyle on Wednesday and the 4x200 on Thursday.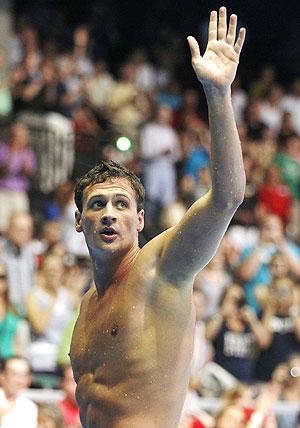 "One of the reasons why I'm in this sport is because of the fans," the five-time Olympic champion told the BBC after handing his gold medal to a young boy who was waiting for an autograph.
"They have done so much with the cheering and the support throughout my years and just the love that they have given me I wanted to give back and putting a medal around their neck and seeing that glow on their face means the world to me," he added.
Japan's Daiya Seto took silver in 1:52.80 with Hungary's Laszlo Cseh grabbing the bronze medal in 1:52.89.
Lochte won six gold medals and one silver when Dubai hosted the short-course event in 2010. He also won five medals at this year's London Olympics including two golds.
The American's win gave him his fourth 200 individual medley title in a row at the short-course worlds having also snatched gold in Shanghai (2006), Manchester (2008) and Dubai (2010).
The 28-year-old Lochte's world record on Friday was the first at this year's event, on the third day of competition.