World number one Lee Chong Wei of Malaysia Saturday set up a mouth-watering summit clash against experienced Danish shuttler Peter Hoeg Gade in the inaugural Indian Open Super Series after both notched up contrasting wins in the men's singles in New Delhi.
The two-time All England Champion, Lee prevailed over eight seed Yun Hu of Hong Kong 21-11, 21-15 while 34-year-old Gade, who won four European Championship crowns beside the All England title in 1999, defeated sixth seed Korean Sung Hwan Park 21-15, 21-19 in a 45-minute semi-final at Siri Fort Complex.
In the women's singles, Porntip Buranaprasertsuk of Thailand scored an upset win over fourth seed Pui Yin Yip 21-13, 21-8 to reach the finals and will face third seed Youn Joo Bae on Sunday. Bae beat Sayaka Sato 23-21, 15-21, 21-12 in a hard-fought semi-final, which lasted more than one hour.
Yun's challenge lasted the initial three points as after that he was left to do the catching up act with Lee zooming ahead with a variety of strokes to take the first game.
The second game was no different as Lee, after initially being locked at 4-4, broke away with big strides to extend the lead to 13-6 but Yun too reeled off six straight points to narrow the gap. However, it proved futile as the world number one held his fort to pocket the match.
Lee's athleticism was in full display as the Malaysian retrieved the shuttle from near impossible positions during the long rallies and also hit a between-the-legs shot, much to the amusement of the paltry crowd.
Asked about the strokes, Lee later said with a smile, "I don't know where that came from. I was lucky."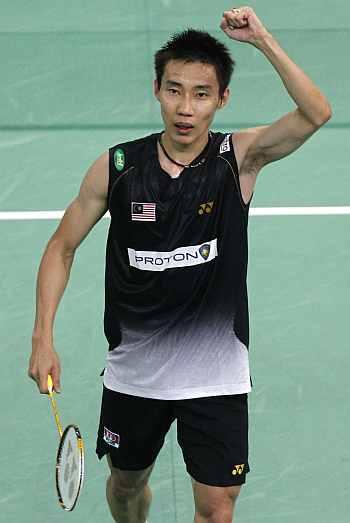 Lee has played Peter 11 times earlier in his career and has lost only once during the 2009 Korea Super Series but the Malaysian said he won't take the experienced Dane lightly.
"It is the first Super Series in India and I would like to win it. He (Peter) is an experienced player and it is always tough against him. I hope I can beat him once again here. I will try my best and prepare myself well for the final," he said.
Gade too showed his age-defying fitness as he was up on his feet during the long rallies and controlled the match with Park showing some glimpses of brilliance during their 45 minute clash.
Gade first opened up a narrow 5-3 lead and then widen the gap With better net play and finished off the first game in style with a drop.
The Korean came back to open up a massive 12-6 in the second game but experienced Gade reeled off the deficit with six straight points as Park crumbled under pressure.
"I am improving with each day in the tournament. I am happy to make the finals at last as I have been reaching the semifinal and quarterfinals, so it feels good to be here. I played in the final last time in Korea Open last year," said Gade, who topped the world rankings from 1998 to 2001.
"Park is a world-class opponent. He had beaten Taufik yesterday so I had to play my best. I am happy with my game. I played a clever and smart game. I was expecting him a comeback in the second game because of the change of sides as I was on the difficult side of the drift. But I managed things well and controlled the game," he added.
About Sunday's final, Gade said, "Lee Chong Wei is the favourite for the title here. It gonna be difficult. He is a big player. Everyone says he cannot lose to an old guy like me. But I would try my best. Hopefully I can make a good game and put pressure on him."
Seeds tumbled in the men's doubles with top seed Malaysian pair of Kien Keat Koo and Boon Heong Tan shown the exit door by fourth seed Hirokatsu Hashimoto and Noriyasu Hirata of Japan 21-16, 21-19.