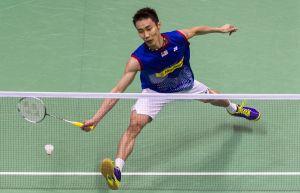 Malaysia's Lee Chong Wei welcomed the decision to use video reviews of disputed line calls after the world number one became the first in badminton to use the technology on Wednesday.
Lee, who is chasing his fourth BWF World Superseries Finals men's singles crown, asked for a video review on the tournament's first day during his match against China's Wang Zhengming, which Lee won 21-10, 21-18.
According to AFP reports, the Olympic and World Championship silver medallist used the technology after his return to Wang was called when he was trailing 4-2 in the second game.
The video review showed Lee's judgement to be spot-on as the shuttle landed on the line.
"It is about time video technology is brought into the game. The shuttle travels so fast, and the line judges only have a split second to make a decision," said Lee, who won this tournament from 2008 to 2010.
"All the players are in favour of the system as it helps eradicate accusations of bias."
The technology, using ultra-slow motion cameras, is being trialled at this week's season finale in a bid to stamp out faulty decisions, which have caused disputes in the past.
Following similar moves in tennis, cricket, football and rugby, players will have two challenges per match during the tournament in Malaysia's capital Kuala Lumpur.
In the earlier matches Wednesday, none of the players used it. "I'm honoured, as the world number one, to be the first player to use the review system," Lee said.
Photograph: Lee Chong Wei
Photograph: Victor Fraile/Getty Images