LeBron James acquired a minority stake in Liverpool football club on Wednesday after the two-time NBA most valuable player's sports marketing firm entered into a partnership with Fenway Sports Group (FSG).
FSG, owners of English Premier League team Liverpool FC, the Boston Red Sox, New England Sports Network (NESN) and 50 percent of NASCAR's Roush Fenway Racing, will partner with James's sports-marketing firm LRMR Branding & Marketing to become the exclusive world-wide representative for James.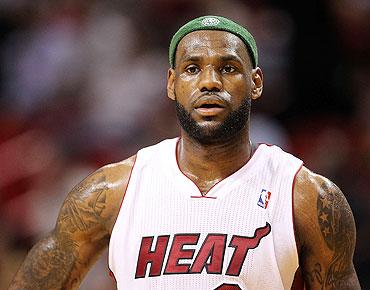 Fenway Sports Management (FSM), the marketing arm of FSG that acquires sponsorships for FSG properties, will team up with LRMR to secure global marketing and sponsorship opportunities for James, one of the world's most recognisable athletes.
As part of the agreement, James and Maverick Carter, CEO of LRMR, will acquire an interest in Liverpool FC, ranked as the sixth most valuable football team in the world by Forbes.
"We believe this will be a powerful collaboration between FSM and LRMR and LeBron, said Tom Werner, who along with John Henry are owners of FSM.
"There are very few sportsmen who can match his global reach, appeal and iconic status," he said in a statement.
"We are very excited that LeBron will be part of the Liverpool FC family.
"LeBron and Liverpool each has a powerful presence internationally, with particular strength in Asia, but we feel the business opportunities for both working and being identified together in emerging international markets will result in unforeseen opportunities that neither would have been able to realise alone."