Uruguayan striker Luis Suarez is 'chomping at the bit' to return for Liverpool this week after the expiry of a 10-match ban for biting, manager Brendan Rodgers said on Monday.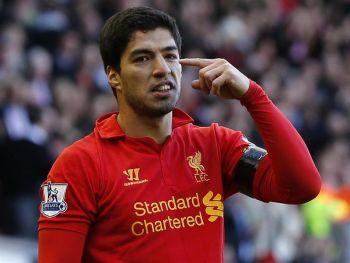 Suarez is available for Wednesday's Capital One (League) Cup tie against Manchester United at Old Trafford after being suspended for biting Chelsea defender Branislav Ivanovic in April.
"It has been a really difficult time for him not playing games," Rodgers told reporters on Monday.
"How he has prepared himself over the last number of weeks has been fantastic. He's really chomping at the bit to help the team," added the manager.
"Everyone knows the depth of his quality and his attitude. Once he gets back on the field again he will show what he has shown since he's been here."
Rodgers did not confirm Suarez would start although he is expected to partner on-form striker Daniel Sturridge against United.
"The two of them will be a very strong partnership. I'm sure Suarez will be ready to be thrown back in," defender Kolo Toure told the Liverpool Echo.
"He has been very difficult to defend against in training. He is a winner. He's always working hard and fighting. You want those kind of players."
Photograph: Phil Noble/Reuters