La Liga has taken legal action against 10 people who allegedly threatened Ukraine international Roman Zozulya following his move to Rayo Vallecano last week, the Spanish league said in a statement on Thursday.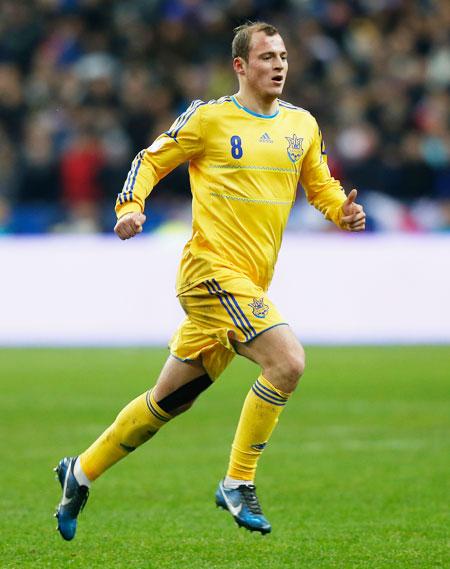 The 27-year-old striker, who was loaned to second division strugglers Rayo from La Liga side Real Betis, was insulted by fans at his first training session in Vallecas on Wednesday and accused of being a neo-Nazi.
He returned to Seville the next day "very affected" and has yet to announce if he will play for Rayo.
La Liga on Thursday brought a criminal action, under article 172.1 of the Spanish penal code, on charges of coercion against 10 individuals believed to be responsible for forcing Rayo Vallecano player Roman Zozulya to temporarily renounce joining the Madrid team (Rayo Vallecano), the club he had been loaned to by Real Betis," the statement said.
When Zozulya joined Betis last summer on a three-year contract from Dnipro Dnipropetrovsk, a Spanish newspaper reported wrongly that he was wearing the shirt of a far-right paramilitary group.
The newspaper quickly apologised and withdrew the article.
Before arriving at Rayo, Zozulya wrote an open letter to supporters of the club, which has a large left-wing fan base, denying that he had links to the far right.
Zozulya can only play for Rayo this season as league rules state that players cannot register for more than two teams in one campaign.
La Liga have guaranteed Zozulya's safety if he decides to play for Rayo and has warned it will take additional legal action against any other individuals that exhibit similar insulting behaviour towards the player.
UEFA to ask for 16 places at expanded 2026 World Cup
Europe wants 16 places at the expanded 48-team 2026 World Cup finals, Aleksander Ceferin, the president of the continent's soccer organisation UEFA, said on Thursday.
The game's governing body, FIFA, decided last month to add 16 teams at the finals with a first round of 16 groups of three. The top two in each group would qualify for the knockout stage.
"...we think, to ask for 16 slots at least (for European teams), plus another condition that each European team is in a different group," Ceferin told a news conference after UEFA's executive committee meeting in Nyon, Switzerland.
"Then if it's true that we are so good, that the quality is on our side, then I think that all 16 (European teams) can qualify in the second round..."
Thirteen European teams qualified for the last World Cup in Brazil in 2014, which was won by Germany.
FIFA is expected to confirm the quotas for each continental governing body at meetings in Bahrain in May.
Meanwhile, future UEFA presidents will be limited to a maximum of three terms and a total of 12 years in the job, the European soccer body said after its executive committee approved a set of governance reforms.
Past presidents of the organisation had no such restrictions, with former chief Lennart Johansson in charge for a full 17 years.
Ceferin, who replaced disgraced Frenchman Michel Platini in September, has pledged to reform the organisation.
UEFA said part of the reforms approved by the executive committee was the "introduction of term limits for the UEFA President and members of the UEFA Executive Committee, with the possibility to serve for a maximum of three four-year terms."
Other changes include granting two member positions on its Executive Committee to representatives of the European Club Association (ECA).
Candidates for election on the committee must also hold an active office in their respective national association.
"I am very pleased that the executive committee gave a unanimous backing to reforms I consider essential for the strengthening of UEFA," Ceferin said.
"I am convinced that our member associations will also endorse these good governance proposals to create a stronger and more transparent governing body for the good of European football."
The reforms will now need to be ratified at a UEFA congress on April 5 in Finland.
Image: Ukrainian footballer Roman Zozulya
Photograph: Harry Engels/Getty Images