Barcelona should seek to refine their current playing style and forget about adopting a Plan B for situations such as those they faced against Celtic in the Champions League, defender Dani Alves said on Friday.
Barca suffered a shock 2-1 defeat in Glasgow on Wednesday, suffering for the second time in two weeks against the resolute Scottish champions who were denied a 1-1 draw at the Nou Camp by a last-minute Jordi Alba goal.
"Our style of play is one that the world of football has fallen in love with," Alves said.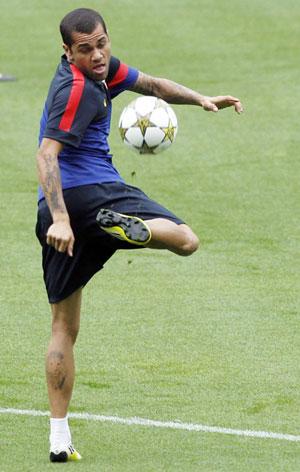 "But when we lose it doesn't mean we need to look for a Plan B. We had that in the past with a tall guy (Zlatan Ibrahimovic)and he isn't here any more, because it wasn't necessary.
"We have to improve the Plan A because this is our philosophy. There is no need to change it."
Powerful Swedish striker Ibrahimovic was brought in as a replacement for Samuel Eto'o in 2009 but lasted only one season before moving on to AC Milan.
Tito Vilanova's Barca, much like Pep Guardiola's when they fell to Chelsea in the Champions League semi-finals last season, were denied by teams who were happy to let them dominate possession while defending in numbers.
Barca stuck with their patient, short-passing style right to the end of these games without resorting to a more direct approach in the latter stages.
"Against teams who set themselves out like Chelsea and Celtic, if we had taken our chances in front of goal, we would have prevailed," the Brazil international added.
"If you don't take them, they have two chances and they score, and that's that."
Looking ahead to the weekend's La Liga action, Barcelona have been boosted by the return to training of captain Carles Puyol after six weeks out with a dislocated left elbow.
The 34-year-old Spanish international should help bring some stability to their shaky defence.
Vilanova has been struggling to cover the absence of his first-choice centre-backs with Gerard Pique having also been out injured.
Pique damaged his foot in September and returned to play the last few minutes of Barca's defeat to Celtic during the week.
The La Liga leaders defend their unbeaten domestic start to the season away to Real Mallorca on Sunday, against a side who have lost their last five league games.
Photograph: Albert Gea/Reuters