Rafael Nadal's unprecedented 10th French Open title on Sunday drew praise from across the tennis and sporting community:
Here is a selection of what was said: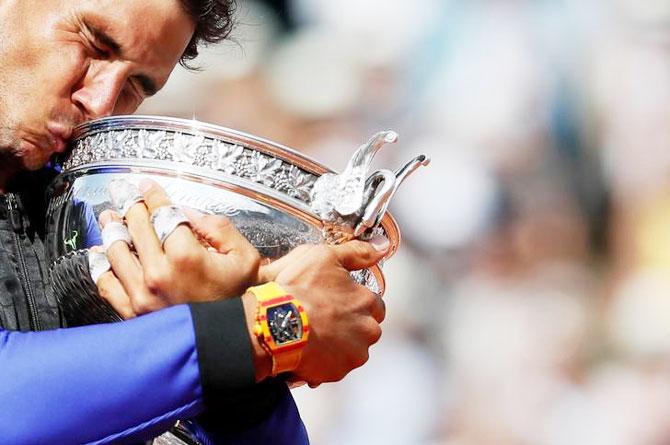 IMAGE: Rafael Nadal kisses the trophy after winning his 10th French Open title on Sunday. Photograph: Christian Hartmann/Reuters
Nine-times Wimbledon champion Martina Navratilova
"An amazing 10th title at Roland Garros for Rafael Nadal -- that will never happen again. Congratulations to a true champion on and off the court."
18-times grand slam champion Roger Federer
"Simply incredible Rafa"
Three-times French Open champion Mats Wilander
"Four games he dropped at most -- in any set in any match. That's incredible. There are so many improvements to his game that he's a better player now than he was when he won Wimbledon two times before (in 2008 and 2010).
"Today's Rafa would beat the Rafa of 2005 who won his first French Open and wouldn't drop more than three games a set."
Former French favourite Fabrice Santoro
"You have someone over the other side of the net who is so strong physically, who hits the ball that hard, and plays every single point like a match point. We are not talking about winning a match, set or a game (against him). Winning one point is difficult."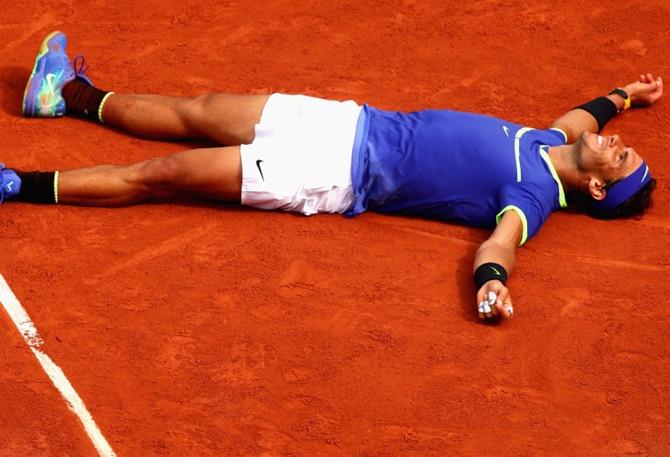 IMAGE: Rafael Nadal of Spain celebrates victory following the men's singles final against Stanislas Wawrinka of Switzerland. Photograph: Clive Brunskill/Getty Images
Germany's former world number two Tommy Haas:
"I don't think many can put it into words and I don't think many understand this accomplishment, truly incredible."
Former world number one, Andy Roddick:
"He lost 35 games in the entire tournament... I'm pretty sure I've lost my car keys 35 times this year.
"10...10...10 you can say it as much as you want. It's so not normal. Huge respect for Rafa"
Masters champion golfer Sergio Garcia
"INCREDIBLE!! So impressive that it almost doesn't seem real. Congrats my friend!"
Former Wimbledon champion Pat Cash
"I'm totally shocked to see him do it. I didn't think I'd see him come back to win another slam, let alone emphatically."