Australia hot-headed tennis star Nick Kyrgios was handed a $16,500 fine on Thursday after he tanked a match and got into an argument with fans at the Shanghai Masters.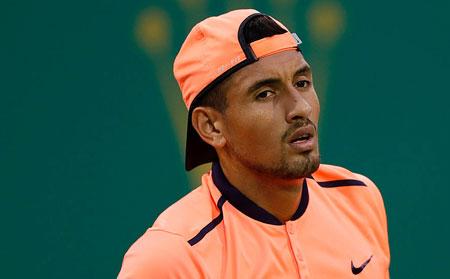 The World No 14 received the maximum $10,000 fine for "lack of best efforts", plus $5,000 for abusing a spectator and another $1,500 for unsportsmanlike conduct.
- Sit down and shut up and watch: Kyrgios tells spectator
Trouble-prone Kyrgios, 21, patted a slow serve into his opponent's court and failed to properly contest several points in his 6-3, 6-1 defeat to 110th-ranked Mischa Zverev.
Kyrgios also clashed with the chair umpire and fans, received a code violation for swearing and had a heated argument with one spectator when he was facing match points.
World No 1 Novak Djokovic said Kyrgios was one of the game's biggest talents but that he had "life lessons" to learn.
"Not many great things are spoken about him lately," said the Serb.
"I'm sorry to hear that, because I share the opinion of many players and many people in the tennis world, that he's one of the greatest talents that the game has seen lately and he's got huge potential.
"He's been doing well... you've got to give him credit for that. But on the other hand, he obviously has life lessons to learn. He's still relatively young, so hopefully that's going to happen."
Kyrgios has made as many headlines for his off-court antics as for his exciting tennis during his brief, but turbulent, career.
The Australian number one received a one-month suspended ban last year for a lewd comment about Stan Wawrinka's girlfriend.
He pulled out of the 2016 Rio Olympics after a public spat with the Australian chef de mission Kitty Chiller, who said some of Kyrgios's social media posts suggested "he doesn't really understand what it means to be an Australian Olympian".

And at Wimbledon this year, Kyrgios was involved in a heated row in his post-match news conference after being challenged about his behaviour and language, which earned him yet another code violation during his second-round victory over Dustin Brown.

His attitude was also questioned after he capitulated in his subsequent match against Andy Murray, rushing between serves and appearing at times to throw in the towel.
Image: Australia's Nick Kyrgios
Photograph: Lintao Zhang/Getty Images