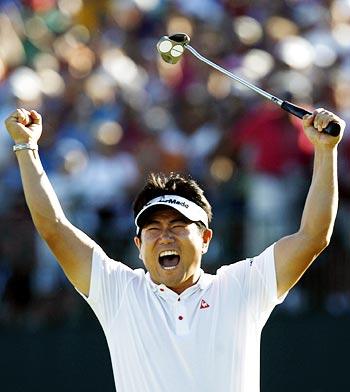 It was a scenario he had long dreamed about, yet facing the reality of playing Tiger Woods in Sunday's final round for a major championship made it difficult for South Korea's Yang Yong-eun to sleep.
Yang kept his cool when it counted and outplayed Woods to win the US PGA Championship, ending the American's perfect mark of winning all 14 majors in which he led going into Sunday and becoming the first Asian male to win a major in one fell swoop.
"At first when I saw the tee time, I was just really happy to be the last group on the final day of a major," Yang told reporters through an interpreter about being paired with Woods at Hazeltine. "For a split second that was the first thought.
"And then second, my heart nearly pounded and exploded being so nervous.
"Actually I think the most nervous part passed by through the night because I woke up about two, three times through my sleep. I didn't really get a good sleep yesterday."
Yang, 37, played like a dream, overcoming a two-shot deficit in his duel with Woods before seizing the outright lead with a spectacular chip-in for eagle on the 14th hole.
STUNNING APPROACH
Late bloomer Yang, who took up golf as a 19-year-old, capped his stunning upset with a soaring 210-yard approach to within 10 feet of the up at the 18th to birdie for 70.
"I've sort of visualised this quite a few times playing against the best player, if not one of the best players in the history of golf, playing with him in the final round in a major championship, always sort of dreamed about this," he said.
"I've seen throughout Tiger's career that a lot of players have folded probably on the last day when playing with him.
"I'd usually try to visualise and try to bring up a mock strategy on how to win, if I ever played against Tiger.
"But when the chance came, I sort of thought, hey, I could always play a good round of golf. Tiger's good, but he could always have a bad day. I guess today was one of those days."
The self-deprecating Yang, ranked 110th in the world, had a great day on the longest layout to host a major and said his underdog status helped him.
Yang won this year's Honda Classic for his first US Tour win to go with one European win, five Japan Tour victories and two Korean triumphs on his resume. Woods's victory last week at the WGC-Bridgestone Invitational was his 70th US Tour win.
"The odds are against me. Nobody's going to be really disappointed that I lose. So I really had nothing much at stake, and that's how I played it," he said.
Yang created the turning points that usually lift Woods to victory. After his ball fell in the hole for eagle at 14, he gave a celebration befitting the world number one himself.
"I did let out a bit of emotion with that fist pump," he said. "I tried my best Tiger imitation."
Yang never gave a hint of nerves.
"I guess the fearlessness comes from the fact that I know I'm doing my dream job. Every day I'm living my dream. I have this mentality where I try my best and leave no regrets.
"I wasn't that nervous, honestly, because it's a game of golf," said Yang, who also tamed Tiger at the 2006 HSBC Champions in Shanghai.
"It's not like you're in an octagon where you're fighting against Tiger and he's going to bite you or swing at you with his nine iron."
Asked whether he would like a rematch with Woods, the wry Yang replied: "Never again. I would like to stay as the guy who won over Tiger at the PGA Championship."