Hundreds of thousands of South Koreans partied through the night and greeted Monday with cheers and dancing in the streets after seeing their team grab a last-gasp 1-1 World Cup draw with France.
Fans gathered in downtown Seoul about eight hours before kick-off to watch the game on giant TV screens, just as they did four years ago when Korea co-hosted the World Cup with neighbours Japan.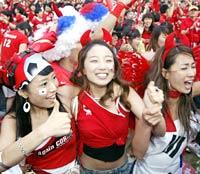 The match started at 4 a.m. local time (1900 GMT) and finished just before the morning rush hour. Outdoor venues across the country staged pop concerts and other events on Sunday night to keep fans entertained before the match.
Fans banged drums, shot off bottle rockets and erupted into deafening cheers when Park Ji-sung drew the match level with a late second-half goal.
South Korea sit on top of Group G with four points, ahead of France with two, Switzerland on one and Togo with zero. The Swiss play Togo on Monday.
"I love Park Ji-sung. He will take us to the next round. We will beat Switzerland," said fan Kim Kong-sik.
Partying fans were later cleared from the main streets of the capital by thousands of riot police to let a small army of garbage men and street sweepers clean up the mess.
"I feel so great this morning. Korea is fighting," said Kim Gi-youn.
Korea play Switzerland in their final group match on Friday in Hanover (Saturday 0400 Korean time).
DIFFERENT EMOTIONS
In different parts of the Asia-Pacific region, the mood was decidedly less upbeat.
Soccer fans in Japan were frustrated by their team's 0-0 draw with Croatia, a result that leaves their hopes of qualifying for the second stage hanging by a thread, but refused to give up hope.
| | |
| --- | --- |
| | Also Read |
| | |



France end goal drought but held by Korea

Can

the Dutch make the final?

Special: A moment in the sun

Ahn saves South Korean blushes

Images: Korea vs Togo



"I'm not satisfied, but at least they avoided the worst-case scenario," said Masaya Tokunaga, 28. "All we can do now is win."
Japan have to beat Brazil in their final group match and hope the Australia versus Croatia match works out in their favour if they are to advance.
Soccer fans in Sydney turned on their televisions in the predawn hours of Monday to watch their side lose 2-0 to Brazil.
An Australian business survey forecast that up to a quarter of the workforce may choose to lie in on Monday morning instead of heading to the office.
Australian coach Guus Hiddink said the Socceroos were still on course to reach the second round of the World Cup for the first time despite the loss.
(With additional reporting by Toshi Maeda in Tokyo)